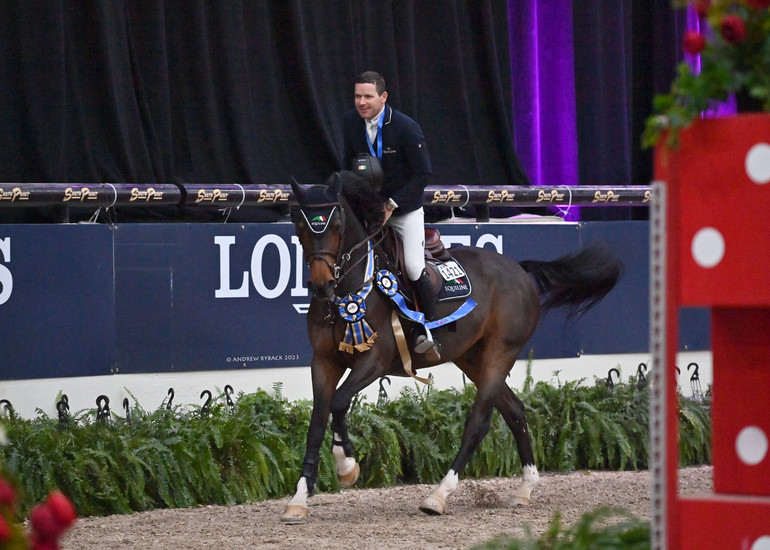 Conor Swail and Count Me In, winners of the CSI4*-W 1.50m Las Vegas National "All In" Speed Classic. Photo © Andrew Ryback Photography.
Edited press release from the Las Vegas National Horse Show
---
Ireland's Conor Swail can be counted on to crank up the speed, and on Thursday evening, he and Count Me In (Count Grannus x Sherlock Holmes) did just that, racing to the win in the $39,000 CSI4*-W 1.50m Las Vegas National "All In" Speed Classic at the South Point Hotel, Casino & Spa in Las Vegas, NV.
Swail and the 17-year-old Hanoverian gelding were the 26th of 42 entries to take on the speed track designed by Olaf Petersen Jr., and Swail had the slight advantage of having already navigated the course on his first mount, Vital Chance de La Roque (Diamant de Semilly x Rivage du Poncel).
While Swail had one rail down on "Vinny," his quick time of 60.68 seconds was something he wanted to emulate with Count Me In.
"I was trying to sort of replicate that round because it was a good one, even though I just had one little mistake," explained Swail.
Swail did not replicate his time in that round. Instead, he bettered it, stopping the clock in 60.01 seconds to take the win. Finishing just behind Swail with a time of 60.36 seconds was the USA's Charlotte Jacobs aboard Rincoola Milsean (Aldatus Z x Cruising) in her debut trip to the Las Vegas National CSI4*-W. Rounding out the top three were Jill Humphrey (USA) and Chromatic BF (Connor x Concept) on a time of 62.06 seconds, and Canada's Vanessa Mannix took fourth place in 63.25 seconds with her own Lehar (Verdi x D'ukase).
"Count Me In is a wonderful horse; he's one of the best horses I've ever ridden," said Swail of the gelding best known as "Crosby" in the barn. "He's quite grumpy actually when he's in the stables, so you have to leave him alone and let him do his own thing in the stall, but when he comes out, he knows his job. He gets on with it. He's a prolific winner."
Swail is a highly prolific winner in his own right and has topped multiple FEI classes at the Las Vegas National over the past few years.
"I've been coming here the last three or four years now; I really enjoy the show," said Swail. "Obviously, the event itself is spectacular, and it's nice to be able to go and do a few extracurricular things also – a bit of golf and a few shows and whatever."
While Swail will take advantage of a day off on Friday to enjoy some of what Vegas has to offer, his sights are set firmly on Saturday night's $226,000 Longines FEI Jumping World CupTM Las Vegas.
"[The win was] a good way to start for sure. I was very happy that it went the way that I was hoping it would go," concluded Swail. "We'll go and do something fun tonight and try to win this World Cup on Saturday night!"