Press release from Blenheim EquiSports
---
Ireland's Daniel Coyle is picking up right where he left off on the Longines FEI Jumping World Cup™ circuit. Fresh off a win in the $250,000 Longines FEI Jumping World Cup™ Toronto with Legacy, Coyle kicked off his time at the Las Vegas National CSI4*-W with victory aboard Ivory TCS in Wednesday's $25,000 CSI4*-W 1.45m Las Vegas National "Lucky Sevens" Two-Phase Stake, presented by Blenheim EquiSports.
Brazil's Anderson Lima built a track for the November 16 class that saw rails fall in various locations throughout the course for exactly half of the 32 entries.
The very first rider in the ring, Conor Swail, was one of the 16 entries that saw no faults at all. The Irish rider, who currently sits in second in the Longines FEI Jumping World Cup™ North American League standings, set the time to beat at 31.69 seconds aboard his own Theo 160.
Skylar Wireman, 17, and Coolio 23, owned by Shayne Wireman, were the first duo to narrowly best Swail's leading time, as they crossed the finish in 31.58 seconds after executing a slick inside turn that Swail had not.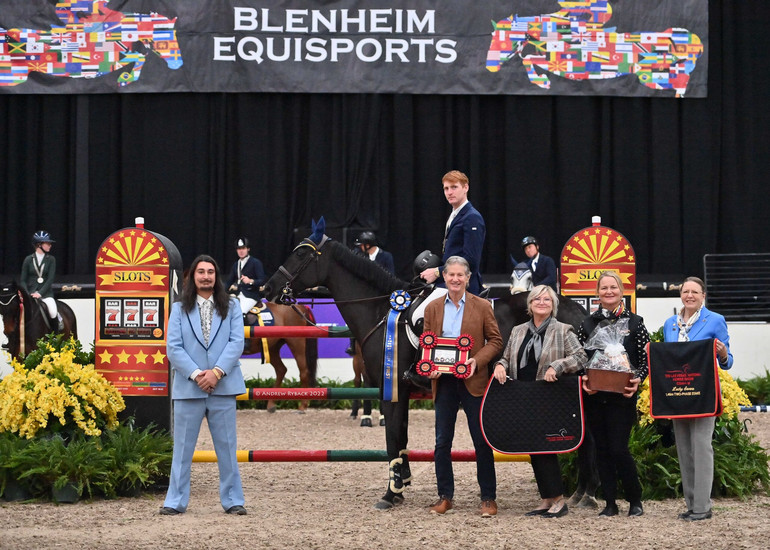 Daniel Coyle and Ivory TCS were joined in their winning presentation by (from left to right) ringmaster Dillon Lucas, Blenheim EquiSports president Robert Ridland, awards coordinator Nani Leubke, show manager Alexandra Zulia and awards coordinator Debbie Stone. Photo © Andrew Ryback Photography.
Coyle and Ivory TCS, owned by Coyle and Ariel Grange, were the 25th in the order of go, and they edged out Wireman for the win by just over one-tenth of a second, stopping the clock in 31.45 seconds.
"The two-phase competition is always one that takes a little bit out of everybody," explained Coyle. "Usually everybody's pretty close because there's not a lot you can do in the second half. If you can win it, usually that means you're pretty fast. It keeps it a little bit more of a level playing field for everybody."
The Las Vegas National CSI4*-W marks only the second show indoors for 9-year-old Ivory TCS, and this Saturday's $150,000 Longines FEI Jumping World Cup™ Las Vegas, presented by Walter Oil & Gas, will mark the Dutch Warmblood mare's second World Cup Qualifier class.
"She did her first World Cup class in Kentucky a few weeks ago; she's very competitive, and thankfully, she won today," said Coyle. "I don't really know how she is indoors. I guess I can say she's good now because she just won! I'll know after this week."
This week also marks Coyle's first time in the city of Las Vegas. "I've never been to Las Vegas before, and I didn't know if it was the right place for me to go or not!" joked Coyle. "Thankfully, now that I'm here, it's good!"