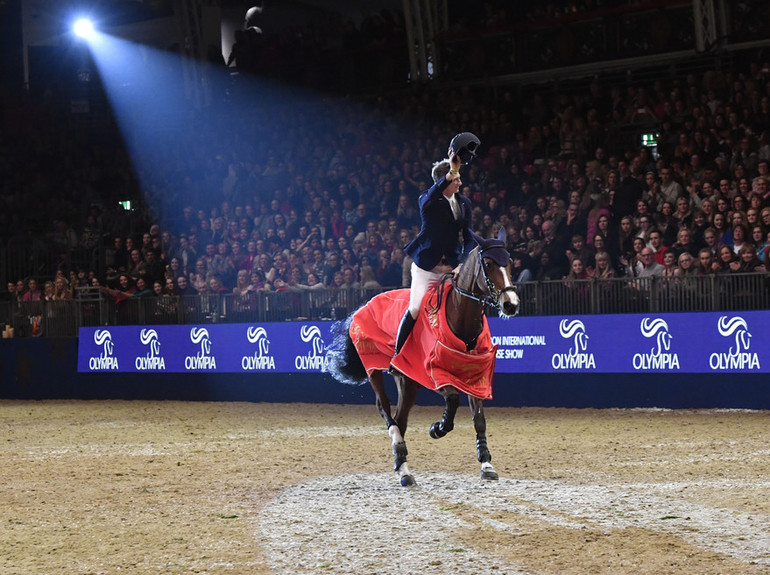 Daniel Deusser celebrates his win at Olympia with Equita van't Zorgvliet. Photo (c) Kit Houghton/Horsepower.
The final day of Olympia, The London International Horse Show, saw Daniel Deusser win the Olympia Grand Prix in a nail-biting final against some of the world's best showjumpers.
Daniel Deusser (GER) capitalised on a late draw to win the Olympia Grand Prix in splendid style. Edwina Tops-Alexander ended second and Longines FEI World Cup hero Scott Brash (GBR) finished third. Malin Baryard-Johnsson (SWE) hung onto the top spot in the H&M Leading Rider of the Show rankings at the culmination of a week's thrilling equestrian sport at Olympia, The London International Horse Show.
The Grand Prix, the final class of the show, attracted a high-class field but only six riders managed to go clear over another brilliantly executed Kelvin Bywater track.
Olympic gold medallist Laura Kraut (USA), first to go in the jump-off, was nearly jumped off Cavalia (Vingino x Manhattan) at the last fence, having hit three rails; German maestro Marcus Ehning had an unexpected two rails down on Gin Chin van het Lindenhof (Chin Chin x Calido I); and both Steve Guerdat, eventual fourth on Corbinian (Cornet Obolensky x Pilot), and Scott Brash, third on Hello Guv'nor (Diamant de Semilly x Papillon Rouge Normandie) incurred four faults.
Edwina Tops-Alexander (AUS) was masterful with a clear round on the mare California (L'esprit x Libero H) but her time of 52.33 seconds looked infinitely beatable, and so it proved when last to go Daniel Deusser executed a beautifully accurate round on the 12-year-old Equita van't Zorgvliet (Cassini I x Darco).
"I had plenty of time to think and I knew exactly what I had to do," said a visibly elated Daniel, who also won the opening jumping class of the show on Thursday. "I thought it was a difficult class – the fences came up quickly and the jump-off course was tricky, just as in the World Cup yesterday."
Edwina Tops-Alexander who has a punishing Christmas schedule ahead, with a flight to a show in Doha tomorrow said, "my mare is only nine and this is only her fourth or fifth indoor show, and there's a lot to contend with, what with the tight arena and snowflakes falling, etc. It was a really technical course, not massive, but tricky."
Earlier in the day, Laura Renwick and perennial Norwegian visitor Geir Gulliksen made it through to the fifth and final round of the Six Bar, at which point they opted to share the spoils rather than jump again.
The temperature in London might be colder than Irishman Darragh Kenny is used to – he's mainly based in Florida – but he found a warm welcome on his first visit to Olympia and notched up a second victory here, in the Holly Speed Stakes on the 11-year-old mare Fixdesign Funke van't Heike (Action Breaker x Grandeur) with a clear in 46.78 seconds.
William Funnell, riding Billy Angelo (Tangelo van de Zuuthoeve x Kroongraaf), was the first to break the 50-second barrier with a smooth round in 47.92 seconds, and managed to hold on to second place with none of the 11 riders after Darragh managing to trouble the two leaders.

"This show is amazing," said Darragh, who is flying back to the States tomorrow. "The mare has gone really well for me this week. She has a big stride so there were a couple of places where I could do one less stride than William, such as coming down to the last where he did seven strides and I did six."
---
Source: Press release from Revolution Sports // Picture © Kit Houghton/Horsepower