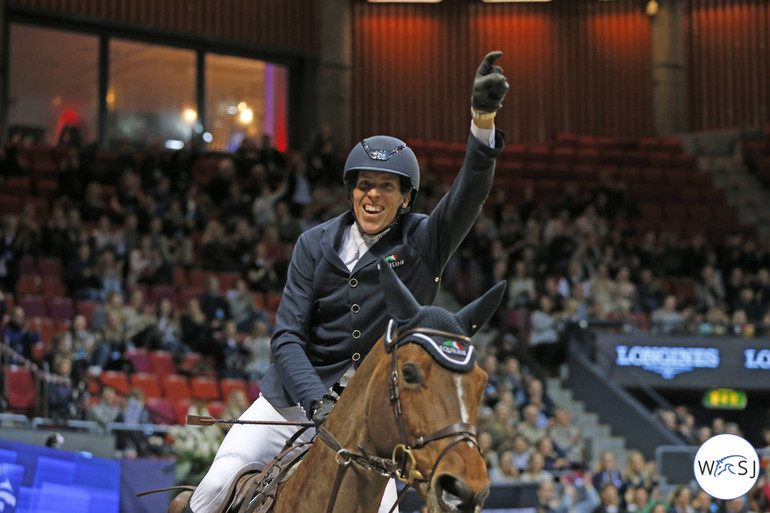 Henrik von Eckermann with Mary Lou 194. When a picture says more than thousand words. Photo (c) Jenny Abrahamsson.
Gothenburg, Sweden hosted the last leg of the 2016/2017 Longines FEI World Cup Western European League this weekend, and it was maybe the most magical one of the season. The fully packed Scandinavium arena is known for its enthusiastic crowds and they for sure did not disappoint Sunday afternoon as their home rider Henrik von Eckermann ended an already amazing weekend by winning the World Cup class. "It has been a crazy weekend. I was one time third and that was my worst placing. Then I was second and two times winning so for sure it will take a while before I have a show like this again – if I ever have a show like this again." Henrik said after his impressing win.
It was 32 horse and rider combinations on the start list and 12 of them qualified for the jump-off. The course in this feature-class presented by Longines and ATG was built by two Swedish course designers, Peter Lundström and Maria Alfredsson, and counted 13 obstacles and 16 efforts in the first round before it was reduced to 8 jumps including 10b and c from the triple combination for the second round.
Helena Persson (SWE) and Bonzai H (Baloubet du Rouet x Catello II) were the first to go in the jump-off, having an early fault on the second fence and finishing in a time of 40.69 seconds. Next out was Olivier Robert (FRA) and Quenelle du Py (Tresor du Remon x Ryon d'annex). Robert also touched the second fence but you need a little luck in this sport and this time the fence was kept intact. The French set the time to beat to 38.52 seconds.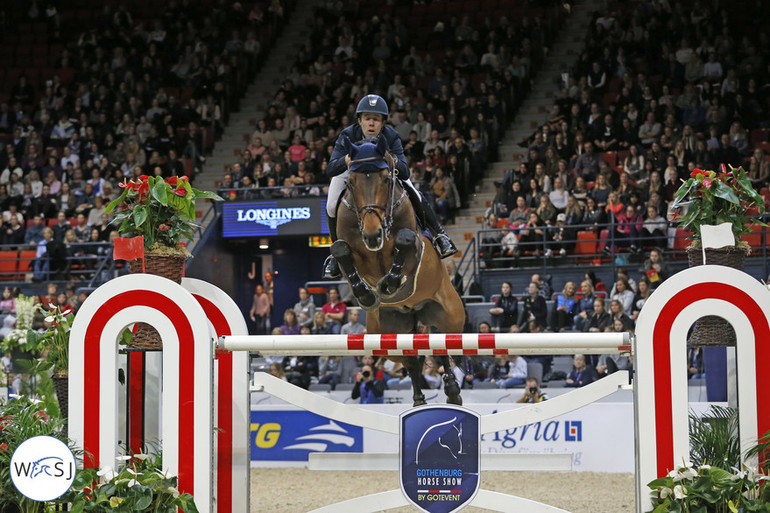 Riding an almost impossible turn to fence three secured Maikel van der Vleuten and VDL Groep Verdi TN NOP second place. Photo (c) Jenny Abrahamsson.
Then it was time for the young and talented Pål Flam and his 14-year-old Skjerabergs Larkin (Ladiesdream x CentauerZ). The combination has already impressed during the weekend and ended sixth in Friday's 1.50 class. Today the Norwegian rider did a great turn to fence number three but unfortunately a pole fell later in the combination. The pair clocked a time of 40.32 seconds and finished tenth in the end.
Robert Smith (GBR) and the 12-year-old mare Bavi (Balou du Rouet x Caretino) went flat out, but still finished 0,08 seconds behind Robert, while Markus Brinkmann (GER) and Pikeur Dylon (Diamant de Semilly x Carry) had a fault at the combination just like Flam.
Holger Wulschner (GER) has produced good riding during the weekend in Sweden and had an unlucky last fence down in yesterday's Grand Prix. Today he rode a double clear round aboard the 13-year-old gelding BSC Skipper (Stolzenberg x Lord Liberty) and the time 41.03 placed them sixth in the end.
Christian Ahlmann (GER) is master when it comes to tight turns and today was no exception, but he had to see a pole down in the combination with his 14-year-old stallion Colorit (Coriano x Capitol).
Maikel van der Vleuten (NED) got the audience gasping for air as he made an almost impossible turn to fence three with VDL Groep Verdi TN N.O.P (Quidam de Revel x Landgraf). The experienced combination took over the lead with the time 36.83 seconds.
Leopold van Asten (NED) and the 13-year-old VDL Groep Zidane N.O.P. (Heartbreaker x Calando I) came second in Bordeaux and were ready to fight for a chance to make it all the way to the top. The Dutch rider went all in, but was 1,23 seconds behind his fellow countryman as the clock stopped.
Denis Lynch (IRL) had the first fence down with All Star 5 (Argentinus x Alme), and then it was time for Von Eckermann. The Swede is a natural fast rider and makes his horses very efficient with his way of riding. In only four months he has managed to turn Mary Lou 194 (Montendro x Portland L) into a top 5* horse and as he crossed the finishline to take over the lead with 36,76 seconds the roof in Skandinavium almost lifted. The popular home rider got standing ovations for his performance.
As the last to go you could almost hear a pin drop during Simon Delestre's (FRA) round with Chesall Zimequest (Casall x Concerto 4), until a fence fell and pushed him down the results list to a seventh place.
Henrik von Eckermann on the other hand could celebrate his third win of the weekend. "It is a lot of different emotions with this win, because to win at home and in front of the home crowd is a fantastic thing, but also all the work behind it. I now have my own business and for the last four months my team has been working really hard I have to say. We have been working day and night so I am really grateful to them. Without them this would not have happened," Henrik said later at the press conference.
Being on great form and now having qualified for the World Cup final in Omaha, Von Eckermann still has moderate expectations for his chances in the final. "I have to remember that this horse doesn't have that much experience, we brought her up when I started to ride her four months ago and at that time she was at a 2* level. Now she has been going from better to better. Today I felt she was ready to try to win the class and it was just enough to win."
---
Text (c) World of Showjumping // Photo (c) Jenny Abrahamsson.