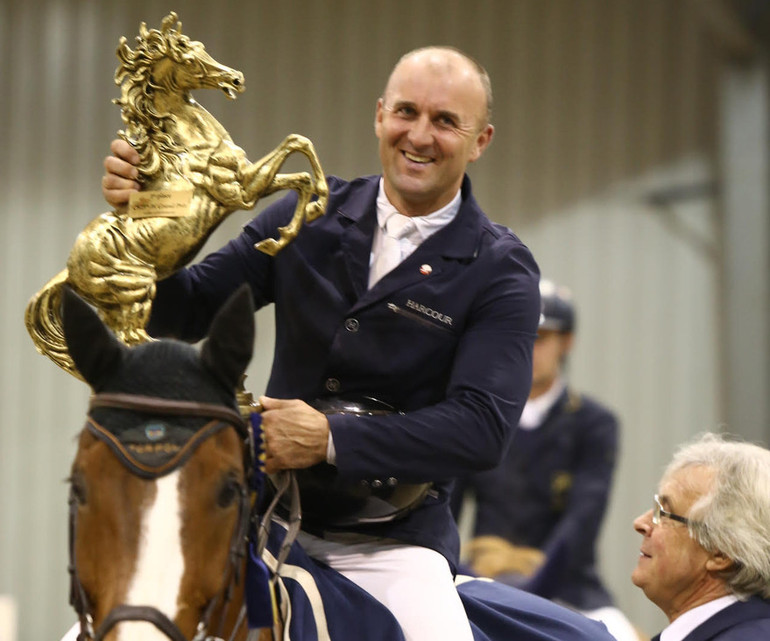 Marek Lewicki won the FEI World Cup in Lezno with Abigej. Photo (c) Katarzyna Primel / KadraSkoki.pl.
Marek Lewicki (POL) took the top honours in the CSI3*-W Grand Prix in Leszno on Monday afternoon. Riding the 12-year-old Abigej (Lupicor x Concorde), Lewicki stopped the clock on 39,22 seconds in the jump-off – a time that was slightly faster than that of runner-up Krzysztof Ludwiczak (POL) with Nordwind (Cassini II x Acord II).
Third place went to Kamil Grzelczyk (POL) on Wibaro (Balou du Rouet x Graf Quidam), while Wojciech Wojcianiec (POL) took the fourth place aboard Chintablue (Chintan x Chacco-Blue). The first rider to break the Polish domination was James Billington (GBR) on Baltic VDL (Quaprice Bois Margot x Jus de Pomme).
As many as 12 horse-and-rider combinations qualified for the jump-off, but it was only six that cleared the shortened course – the last double clear came from Maksymilian Wechta (POL) with La Calidad (Lancer II x Cassini I).
On Saturday, the home riders also dominated in the CSI3* FEI World Cup counting as a qualification for the Central European League. The World Cup qualifier Memorial of General Michał Gutowski saw two home riders on top: Michal Kazmierczak (POL) on the 12-year-old gelding Stakorado (Stakkato Gold x Acorado) won the class, 0.27 seconds ahead of Jaroslaw Skrzyczynski (POL) on Silver Shine (Califax x Agronda). Third place went to Mariann Hugyecz (HUN) on Chacco Boy (Chacco Blue x Pit I), who had the last double clear of the class.
---
Text © World of Showjumping / Picture © Katarzyna Primel / KadraSkoki.pl