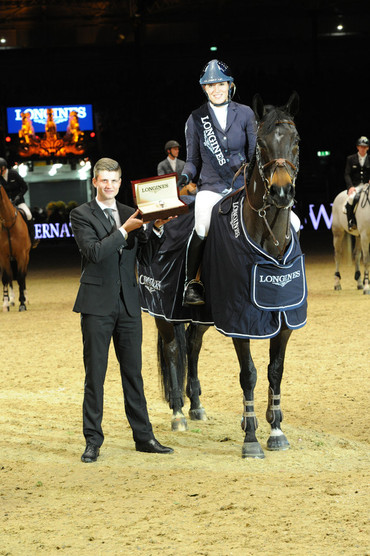 Jessica Mendoza and Spirit T went to the top in Friday's Longines Christmas Cracker at Olympia. Photo (c) Kit Houghton/Hpower.
British rising star Jessica Mendoza's first campaign in senior classes at Olympia, The London International Horse Show, got off to a spectacular start with a brilliant win in the Longines Christmas Cracker on a sell-out evening.
Fifteen horses went through to the jump-off, six of them British, and Laura Renwick threw down the challenge with a superb round on her World Cup horse, Bintang ll (Tangelo van de Zuuthoeve x Orlando), for 33.09 seconds.
But then Jessica pulled off an astonishing tight turn in the air on her brilliantly nippy Spirit T (Tornado x Carnaval Drum). The crowd gasped, and there was a worrying split-second when the mare rattled the first part of the double, but they continued clear and flew across the arena to the last without taking a pull.
Other riders copied, but none could catch a committed Jessica, even though the experienced Swiss rider Pius Schwizer on PSG Future (Cashandcarry x Lorentin I) came with a fraction of a second to take the runner-up spot, ahead of Laura Renwick.
"Everyone was going so quickly, I knew I had to do something," said Jessica afterwards. "When I went into the arena, the turn looked horrible, but I knew I wouldn't win if I didn't do it."
Jessica, who played a key part in achieving Britain's Olympic qualification at the European Championships in Aachen, admitted that an international win was her big ambition for the weekend, but she has plenty more chances to impress.
At only 19, she is still eligible for the Dodson & Horrell and World Class Programme Under-23 Championship tomorrow and she has Spirit T, a 14-year-old bay mare, for the Longines FEI World Cup qualifier on Sunday and a younger horse for Monday's Olympia Grand Prix.
Earlier, British rider Guy Williams on Golddigger (Calvados x Glennridge) pulled off an equally thrilling victory, in the Levy Restaurants Snowman Stakes, in which riders were drawn in seven groups, with the fastest clear in each going through to a jump-off.
With the suspense building, it took until the last group to produce a British representative in the jump-off, and the crowd erupted into loud cheers as Guy conjured a bold clear in 58.79 seconds, the second fastest of the competition, from the willing Golddigger.
The pair were second last to go in the jump-off and the 16-year-old stallion boldly took strides out and produced huge leaps on angles. Only German Hans-Dieter Dreher on Callisto could have beaten Guy, but, to gasps, the white-faced bay gelding put in a sharp stop when asked to make a tight turn.

Guy explained: 'Golddigger is difficult to ride indoors because he's got such a massive stride, but he's such a good horse and will do anything for you.'

Dutch rider Jur Vreiling, a European team gold medallist this year, set the evening alight when triumphing in the Christmas Speed Stakes on Arezzo VDL (Chin Chin x Heartbreaker) ahead of France's Simon Delestre on Stardust Quinhon (Calvaro x Cabdula du Tillard) and Beh Maher on Boomerang (Orlando x Lux). He took it in good part when taking a tumble in prize-giving and was laughing as he left the arena.
---
Source: Press release from Revolution Sports + Entertainment // Picture © Kit Houghton/Hpower