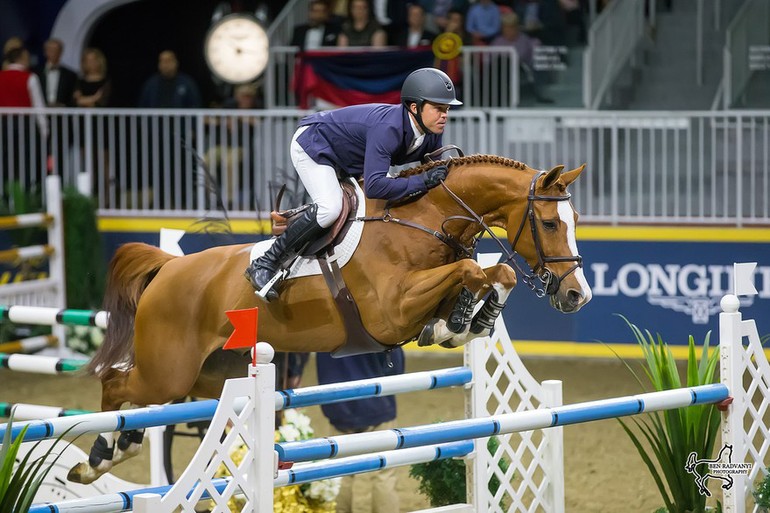 Kent Farrington of the United States won the $75,000 'Big Ben' Challenge riding Creedance to close out the CSI4*-W Royal Horse Show on Saturday, November 12, in Toronto, ON. Photo (c) Ben Radvanyi Photography.
U.S. Olympic team silver medalist Kent Farrington won the $75,000 GroupBy 'Big Ben' Challenge to close out the CSI4*-W Royal Horse Show, held as part of the 94th Royal Agricultural Winter Fair in Toronto, ON.
In front of a sold-out crowd of more than 6,000 people, 21 riders challenged the final international show jumping event of the 2016 Royal Horse Show. A total of seven jumped clear over the huge track set by course designer Bernardo Cabral of Portugal, but none could match the daring performance of Farrington and Creedance, a nine-year-old Dutch Warmblood gelding (Lord Z x Notaris) owned in partnership with RGC Farm.
"There were some really nice horses jumping here tonight," said Farrington who was competing at the Royal Horse Show following a five-year absence. "More than anything, more than winning, I'm thrilled with the progress of the horse. I feel like he's on track to become a very good grand prix horse."
Farrington and Creedance posted a blistering jump-off time of 31.86 seconds that could not be matched. Reigning Olympic Champions Nick Skelton of Great Britain and Big Star (Quick Star x Nimmerdor), owned by Oliver Robertson and Gary and Beverley Widdowson, came the closest, stopping the clock in 33.55 seconds.
"There was no way I could beat Kent so I went for second," said Skelton who has been attending The Royal since the late 1970s. "They have a great crowd here that really takes part in and enjoys the show. I like coming here; it's one of my favorite indoor shows."
Ian Millar of Perth, ON, thrilled the home audience with a clear round in a time of 33.79 seconds riding Dixson (Vigo d'Arsouilles x Olisco) while his 2008 Olympic silver medal teammate Mac Cone of King City, ON, was fourth in 36.26 seconds riding Gasper van den Doorn (Calvaro x Larome) for Mark Samuel's Chadburn Holdings, Inc. 2008 U.S. Olympic team gold medalist Laura Kraut rounded out the top five by posting the fastest four-fault effort in the jump-off with a time of 33.82 seconds riding Confu (Contact me x Cambridge) for St. Bride's Farm.
Of the final test set by course designer Cabral, Farrington said, "I thought it was a creative course using three doubles instead of a triple, which we see all the time in indoor jumping.
"This is a really classy horse, and he's learning at each show," continued Farrington who is aiming Creedance at the 2017 Longines FEI World Cup™ Jumping Final to be held from March 29 to April 2 in Omaha, Nebraska. "He's a little bit special and very, very sensitive, so loud noises and things like that really set him off. I thought maybe these indoor shows would be a little bit of an adventure, but he's really settled down now and he's handling it nicely."
---
Source: Press release from Jump Media LLC // Picture © Ben Radvanyi Photography