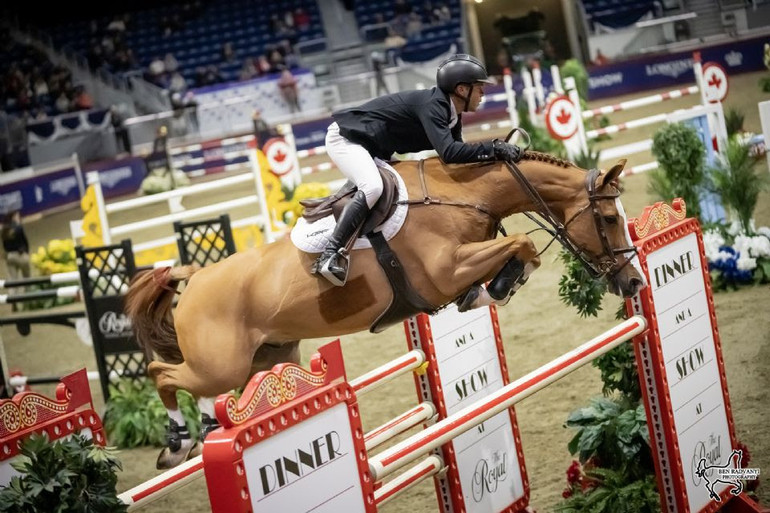 Kent Farrington of the United States opened the Royal Horse Show's CSI4*-W international division with a win riding Creedance in the $38,500 Strength and Speed Challenge. Photo © Ben Radvanyi Photography.
Edited press release from Jump Media
---
Kent Farrington of the United States opened international showjumping competition at the CSI4*-W Royal Horse Show, held as part of the Royal Agricultural Winter Fair, in Toronto, ON, by scoring victory in the $38,500 1.45m Strength and Speed Challenge on Wednesday, November 8.
Competing over a "power and speed" track set by British course designer Kelvin Bywater, riders had to navigate eight fences fault-free before immediately advancing to the speed portion of the course. While the majority of the 22 horse-and-rider combinations managed to jump clear through the first phase, it was Farrington's blazing time of 29.17 seconds in the speed phase with his veteran partner, Creedance (Lord Z x Notaris), that sealed the win. Farrington's triumph marks the third consecutive time he has come out on top in this class at the Royal Horse Show, having ridden Austria 2 (Casall x San Patrignano Corrado) to victory on the two previous occasions.
"I love coming to The Royal," expressed Farrington, 42, of Wellington, FL, who won the Longines FEI Jumping World Cup™ Toronto in 2017. "It feels like a throwback in time with everyone dressed up in fancy clothes and a packed house at night. It has a special atmosphere and great sport. It's really a specialty event in our sport in North America."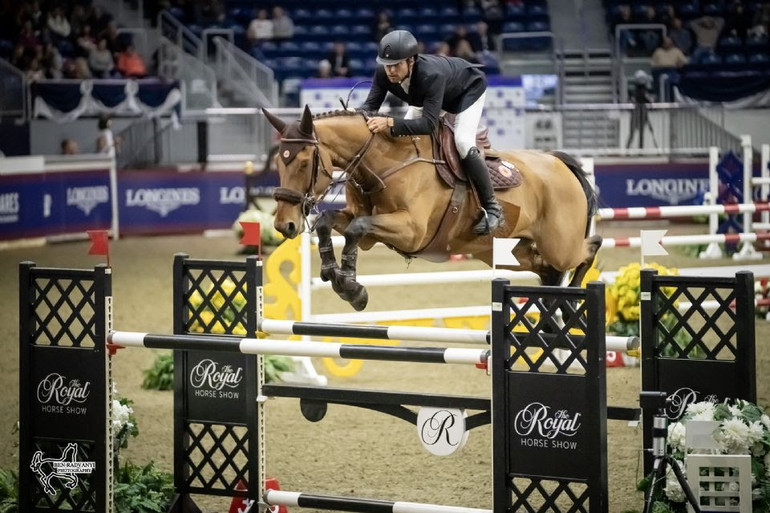 Israel's Daniel Bluman aboard Cachemire de Braize took second in the $38,500 Strength and Speed Challenge. Photo © Ben Radvanyi Photography.
Farrington is riding a hot streak from the 2023 Pan American Games in Santiago, Chile, where he helped the U.S. secure the team gold medal before earning an individual silver medal. Now in Toronto, Farrington, currently ranked number three on the Longines Rankings, looks primed to continue his success riding longtime partner, Creedance.
"Creedance is my old reliable partner and he's doing what he does best, which is winning classes and going fast," said Farrington of the 16-year-old Dutch Warmblood gelding (Lord Z x Notaris) that he owns in partnership with Haity McNerney. "He has all of the attributes we are looking for in a modern show jumper. He's very quick, he has cat-like agility, and he is super careful. He's been a great horse for my team over the last eight years. He's just a winner."
Israel's Daniel Bluman, currently ranked 15th on the Longines Rankings, came the closest to catching Farrington's time riding Cachemire de Braize (Nissan Quality Touch Z x Jaguar Mail), an 11-year-old Selle Français gelding he owns with Mikhail Ilyaich, Over the Top Stables LLC, and Alex Yadgarov. Bluman stopped the clock just fractions of a second off the winning pace in 29.87 seconds for second place. Young German talent Rene Dittmer, 30, notched yet another top placing on his North American indoor tour, finishing in third place with a time of 31.26 seconds riding Burlington Riverland (Mylond Carthago*HN x Dollar du Murrier), a 12-year-old Selle Français gelding owned by Live Oak Plantation LLC.
Amy Millar of Perth, ON, was the top Canadian in fourth place riding GCS Athena (Vigo d'Arsouilles STX x Numero Uno) to a time of 33.05 seconds for owner Brookstreet Stables while Katherine Dinan of the U.S. rounded out the top five with a time of 33.22 seconds aboard Dijon Terdoorn Z (Diamant de Semilly x Lord Z), owned by Grant Road Partners.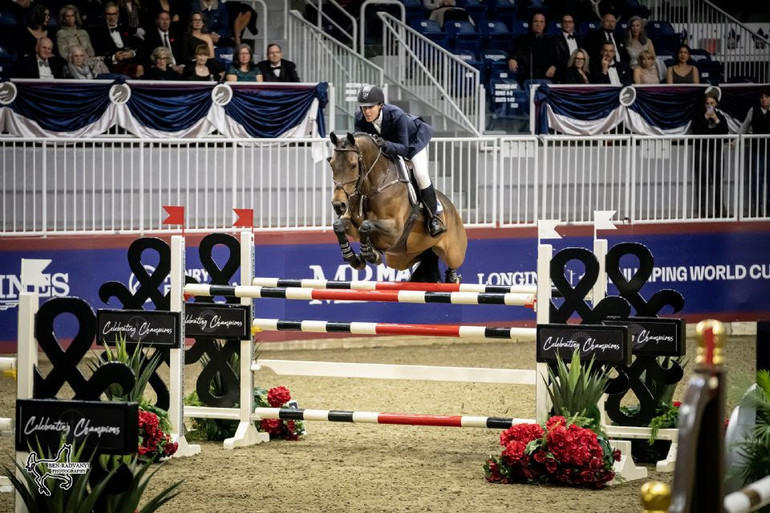 McLain Ward of the United States and First Lady, owned by Robin Parsky, topped the $38,500 McKee Family International Challenge on Wednesday evening. Photo © Ben Radvanyi Photography.
During the evening session, the star-studded field of riders returned to the Coca-Cola coliseum for the $38,500 1.45m McKee Family International Challenge speed class. Fourth to go, three-time U.S. Olympic gold medalist McLain Ward set the time to beat at 59.10 seconds and ultimately could not be caught, running away with the victory with First Lady (Don Diarado x Lordanos), a 10-year-old Oldenburg mare owned by Robin Parsky. Like Farrington, Ward was also a member of the U.S. team that scored gold at the 2023 Pan American Games before earning an individual bronze medal and has now raced right into another successful week at The Royal.
Jessica Mendoza of Great Britain claimed second-place honours with a time of 62.04 seconds aboard I-Cap CL Z (I'm Special de Muze x Air Jordan), the 11-year-old Zangersheide gelding she owns in partnership with Sarah Mendoza. Dittmer once again finished in third, this time with Corsica X (Connor x Corofino II), a 10-year-old Holsteiner mare owned by Equestrix Agency BVBA, stopping the clock at 62.54 seconds.
Following the opening day of international competition, the stage is set for an incredible week of world-class show jumping, featuring athletes representing seven countries. The fan-favourite $150,000 Mad Barn Big Ben International Challenge takes place Thursday evening, November 9, while the week culminates in the highly anticipated $250,000 Longines FEI Jumping World Cup™ Toronto on Saturday evening, November 11.