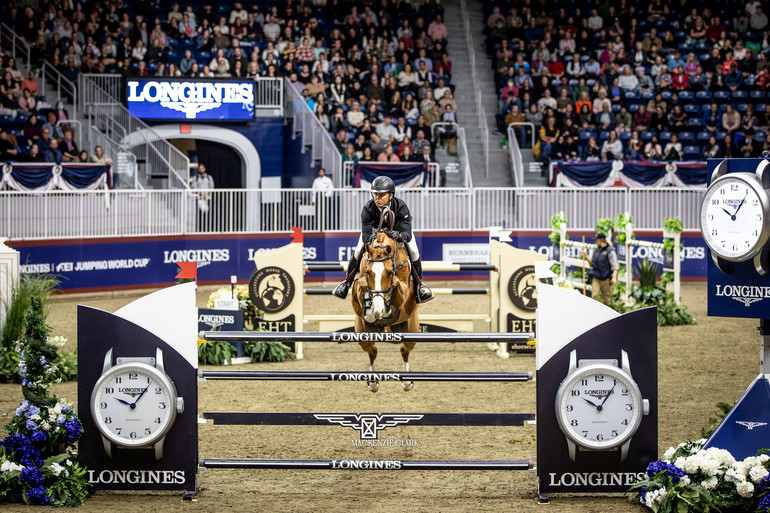 "It's a pretty special Royal for him with two wins this week," said Kent Farrington of his 16-year-old Creedance. Photo © Mackenzie Clark Photo.
Edited press release from Jump Media / Photos © Mackenzie Clark Photo
---
Kent Farrington of the United States soared to victory in the $80,000 1.50m Canadian Open International Speed Challenge, on Friday evening, November 10, at the Royal Horse Show, held as part of the Royal Agricultural Winter Fair, in Toronto, ON.
Seventeen horse-and-rider combinations contested the speed track set by British course designer Kelvin Bywater, which saw the fastest clear round win. Third into the Coca-Cola Coliseum, Canadian talent Vanessa Mannix thrilled the packed house with the first clear ride aboard Carmela Z (Candillo x Caretano Z) in 59.94 seconds. A few rounds later, it was fellow Canadian Tiffany Foster, the highest-ranked female showjumping athlete in the world, who delivered another fault-free effort in 57.66 seconds to move into the lead with Electrique (Emerald van't Ruytershof x Voltaire), a nine-year-old Zangersheide mare owned by 5 Roosters.
Three-time U.S. Olympic medalist McLain Ward laid down a blazing trip with First Lady (Don Diarado x Lordanos), a 10-year-old Oldenburg mare owned by Robin Parsky, in 56.72 seconds to take over the lead. It looked like Ward was going to be the winner until fellow American Kent Farrington shaved more than a second off his time, stopping the clock at 55.46 seconds with Creedance (Lord Z x Notaris). The rest of the field could not match Farrington's electric performance, and in the end, he was victorious. Ward finished in second place while Foster represented the maple leaf by completing the top three.
"It's a pretty special Royal for him with two wins this week," said Farrington of the 16-year-old Dutch warmblood gelding that he owns in partnership with Haity McNerney. "For me, I just wanted to have a great class with him. That's how I like to feel on him. These have been some of his best rounds, so to do it here in a good class and at a special show, one of the best indoors that we have in North America with a great atmosphere and full crowd, was a great win for him."
It has been a long and successful partnership for Farrington and Creedance, who first started competing at the international level together in 2015. Since then, the pair has earned numerous five-star wins all over the world, including in their now fourth appearance at the Royal Horse Show.
"He felt great," said Farrington, currently ranked third in the world, of his partner. "He's been a winner his entire career and a superstar for my team. He's been sound the entire time, and he's been winning the entire time. I'm very proud of that and proud of my team and how we've managed him."
"This horse is naturally so fast across the ground, and he's fast in the air," continued Farrington, who recently won team gold and individual silver medals at the Pan American Games in Santiago, Chile. "If he does one of his fast rounds, it's very hard to beat. Somebody has to do something incredible like leave two strides out of a line or something miraculous because his natural speed is just so high. We are getting towards the end of his career, and I really want him to finish in flying form and winning like he does."
Tiffany Foster, who is currently the top female on the Longines Ranking, took third riding Electrique in the $80,000 Canadian Open International Speed Challenge at Toronto's Royal Horse Show.
International competition culminates on Saturday evening, November 11, with the highly anticipated $250,000 Longines FEI Jumping World Cup™ Toronto in front of a sold-out crowd of over 7,000 people.