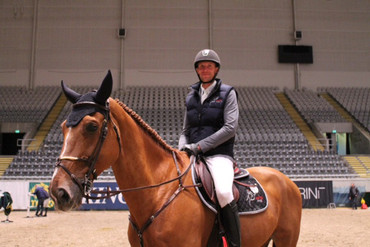 The winner in Oslo: Kevin Staut. Photo (c) Nanna Nieminen.
French rider Kevin Staut won Friday's 1.50m Longines Ranking class sponsored by Teleplan at CSI5*-W Kingsland Oslo Horse Show. The competition was against the clock, and it was opened with Maikel van der Vleuten and Salomon (Stolzenberg x Aramis) producing a fast clear round – only to shortly after be caught by Pieter Devos on Dream of India Greenfield (Gem of India x Night and Day).
Sweden's Henrik von Eckermann and Hermes de Mariposa (Canturano x Power Light) went even quicker, but straight after Belgium's Niels Bruynseels took over the lead aboard Gancia de Muze (Malito de Reve x Nimmerdor) setting the new time to beat at 61.86 seconds.
However, Kevin Staut made the winning difference with his tight turn to fence number three aboard Qurack de Falaise HDC (Jarnac x Fetiche du Pas) to cross the finish line on the incredible time of 59.56 seconds. No one was able to catch Staut's time – several tried, but saw poles falling to the ground in their attempt. Italy's Lorenzo de Luca on Halifax van het Kluizebos (Heartbreaker x Fetiche du Pas) went all in and came close, but had to settle for third place 0.03 seconds behind runner-up Bruynseels.
Earlier in the day, the CSI5*-W 1.40m class against the clock sponsored by Eiendomsspar was won by France's Mathieu Billot on Saphir des Chayottes (Diamant de Semilly x Quito de Baussy) ahead of Norwegian rider Victoria Gulliksen on Billy Blue Bell (Billy Congo x Jazz). Brazil's Adir Dias De Abreu Junior on Chirocco (Sir Shutterfly x Landgold) came third.
---
Text and photo ©World of Showjumping by Nanna Nieminen