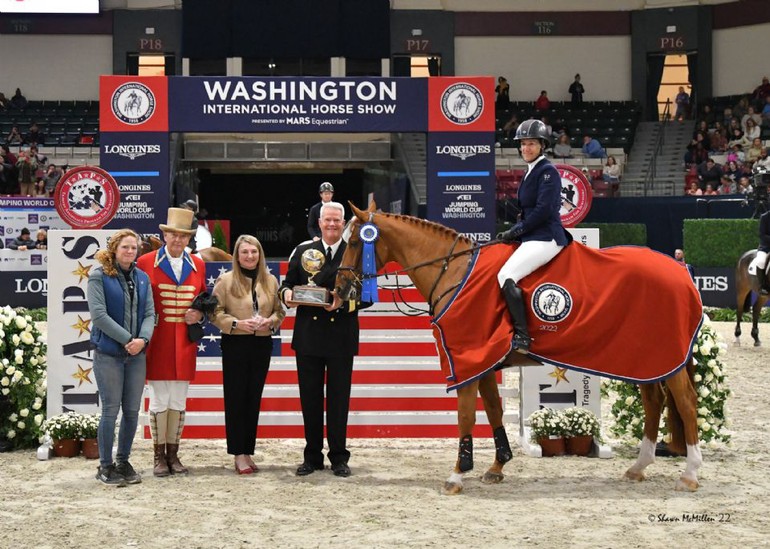 Groom Margo Thomas, ringmaster Steve Rector, WIHS President Vicki Lowell, and Jon Kreitz, Rear Admiral, U.S. Navy (Retired) with Laura Kraut and Calgary Tame. Photo © Shawn McMillen Photography.
Press release from Washington International Horse Show
---
Olympic gold medalist Laura Kraut (USA) headlined the feature class on Friday, October 28, at the 2022 Washington International Horse Show, presented by MARS EquestrianTM. She and Calgary Tame, owned by Eugenie Angot and Stars and Stripes, outraced the field to win the $75,000 Speed Final CSI5*. To finish the exciting Military Night, presented by Boeing, competition, McLain Ward, Daniel Coyle, and Jordan Coyle tied for the win in the $25,000 Defender Puissance by clearing 2.10m. Augusta Iwasaki and Bond took home the Grand Junior Hunter Championship, while Ellie Ferrigno and Queen Elizabeth topped the $7,500 Low Junior/Amateur Jumper Classic.
Kraut and Calgary Tame sped through the course, designed by Bernardo Cabral (POR), in the faults-converted format. They left all the jumps up, adding no time to their finish in 57.13 seconds. Fellow U.S. Olympic team gold medalist McLain Ward rode his speed specialist Catoki, owned by Ward, Bob Russell, and Marilla Van Beuren, to a faster initial time of 56.40 seconds, but four faults left them with a final time of 59.40 seconds for second place. Shane Sweetnam (IRL) and Out of the Blue SCF, owned by Spy Coast Farm LLC, were third in 59.85 seconds.
Kraut credited Calgary Tame's natural speed and sticking to the plan that was best for her horse. "McLain probably has the faster horse, but I didn't really leave too many doors open," conceded Kraut. "Maybe when I got launched over the plank, in that turn is probably the only place where someone could have gotten me. I think McLain did. He was faster, but just had one down."
Kraut was not only excited to get her first win with Calgary Tame, but for the prizes that come along with a win at WIHS. "I'm dying for these Georgetown Cupcakes; it's why I wanted to win here!" she laughed. For her win, Kraut was presented with the General Dwight D. Eisenhower Memorial Perpetual Trophy, donated by the late Arthur J. Morris.
"He's a new horse for me this year," she said of the 10-year-old Selle Francais gelding by Old Chap Tame x Kashmir van't Schuttershof. "He's been a fantastic horse for me so far but this is the first class that I've won with him, so I'm excited. The funny thing about this horse is that I've had a little bit of steering issues along the way. Tonight you definitely needed all of your power steering. I thought, 'I have nothing to lose, and I'm going to have to give it a go. He's super brave, and he was just right on it for me."
Kraut, who won the Longines FEI Jumping World Cup™ Washington Grand Prix at the 2019 WIHS with Fleurette, was excited to return to the show.
"I'm just thrilled that the Washington International Horse Show is back in the Washington area," she remarked. "I think that they've done a magnificent job of making it feel really special. I've never been to this venue before, so I'm really impressed. I know how hard everyone works for the show, and I really hope that it will continue to grow here."
Final Results: $75,000 International Jumper Speed Final
1 CALGARY TAME: 2012 Selle Francis gelding by Old Chap Tame x Kashmir van't Schuttershof
LAURA KRAUT (USA), Eugenie Angot, Stars and Stripes: 57.13
2 CATOKI: 2009 Westphalian gelding by Catoki x Caretello B
MCLAIN WARD (USA), Marilla van Beuren, Bob Russell & McLain Ward: 59.40
3 OUT OF THE BLUE SCF: 2014 Belgian Warmblood mare by Verdi TN x Cassini I
SHANE SWEETNAM (IRL), Spy Coast Farm LLC: 59.85
4 VENICE BEACH: 2009 Hanoverian mare by Voltaire x Escudo 19
RODRIGO PESSOA (BRA), Artemis Equestrian Farm LLC: 61.42
5 ZARINA DE VIDAU: 2011 Spanish Sport Horse mare by Diamant de Semilly x Coeur de Nuit
GRACE DEBNEY (USA), Temple Equestrian LLC: 61.51
6 AUSTRIA 2: 2008 Holsteiner mare by Casall x San Patrignano Corrado
KENT FARRINGTON (USA), Take The High Road LLC: 61.91
7 PRESCOTT: 2012 Holsteiner gelding by Lordanos x BB Carvallo
AARON VALE (USA), Thinkslikeahorse: 61.94
8 ATIKA DES HAUTS VENTS: 2010 Selle Français mare by Rock'N Roll Semilly x Scherif D'Elle
KATIE DINAN (USA), Grant Road Partners LLC: 61.99
9 UBILUC: 2012 Mecklenburg gelding by Ubiko x Lucian
DANIEL BLUMAN (ISR), Blue Star Investments, Over the Top Stables LLC: 62.48
10 THEO: 2012 Holsteiner gelding by Christian 25 x Calando IV
CONOR SWAIL (IRL), Conor Swail, Team Philippaerts: 62.55
11 IVORY TCS: 2013 KWPN mare by Falaise de Muze x Ukato
DANIEL COYLE (IRL), Ariel Grange, Daniel Coyle: 62.92
12 HANGOVER: 2012 KWPN gelding by Action-Breaker x Oklund
DEVIN RYAN (USA), Sascha Abramson: 63.72