Press release from Blenheim EquiSports
---
Both prize money and the most-desired positions in the starting order for Saturday night's $150,000 Longines FEI Jumping World Cup™ Las Vegas were up for grabs on Thursday evening, and it was the USA's Lillie Keenan on Agana van het Gerendal Z who secured the best of both.

As the final of 35 entries in the $40,000 CSI4*-W 1.50m Las Vegas National "All In" Speed Classic, presented by Blenheim EquiSports, Keenan crossed the finish line in a blazing-fast 59.76 seconds to earn the win.

When she and the 11-year-old Zangersheide stallion, owned by Chansonette Farm LLC, entered the ring, the time to beat over the Anderson Lima-designed course had been set at 59.76 seconds by notoriously fast Irish rider Conor Swail aboard Theo 160.
"Tonight, being a speed round, obviously you had to have your foot on the gas the whole way," said Keenan. "I watched probably the first 15 riders go, and I saw a few quick rounds with some unlucky faults. I knew I had to be quick, but I knew where it was possible to be quick without taking too much risk. I walked the course, and I made a plan of, in the event that I have to really give it everything, 'What do I have to do?' I stuck mostly to that. I made a slight adjustment because I didn't really need to leave out quite as many strides, and my horse is quite quick, so as long as I keep up the rhythm, he's pretty quick across the ground."

With Keenan and "Aggie" taking the win, Swail finished in second, and Egypt's Nayel Nassar rounded out the top three aboard Jiminy Cricket, owned by Evergate Stables LLC.

"This is my first time ever in Las Vegas, and it's obviously also my first time at the show," said Keenan. "I am so excited to be here. It is an amazing environment. It's so much fun to be in a place that has so much action. I definitely went gambling for a bit, and I lost enough, so I think I'm going to stick to the show jumping!"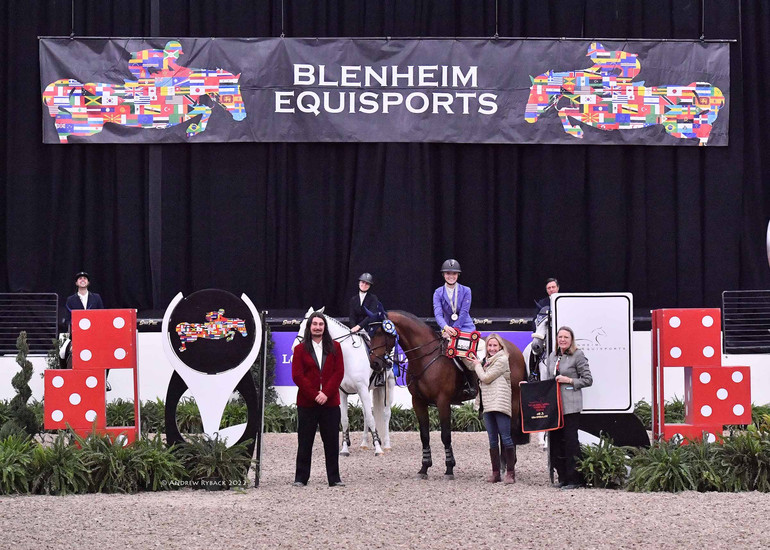 Lillie Keenan, joined in her winning presentation by ringmaster Dillon Lucas, Blenheim EquiSports CEO Hillary Ridland and awards coordinator Nani Leubke. Photo © Andrew Ryback Photography.
Sticking with show jumping is likely a good plan for Keenan, as Thursday's win comes amongst a string of success for the 26-year-old, including aboard her partner of four years, Aggie.

"I bought him at the end of his 6-year-old year, and he's really been a partner that we've grown together," said Keenan. "I was the first one to jump him in any grand prix classes, and I've really been his only [show] rider since then, so it's been exciting to grow as a partnership, and now he's really stepped up to the highest level."

When the stallion is not in the show ring with Keenan, there is a chance that Keenan's mother, Pam Carmichael Keenan, is in the irons.

"My mom also helps me work him and keep him fit," explained Lillie Keenan. "When he's at home, and I ride him, he can really act like a stallion and show off a bit to the other horses, and then when my mom rides him – he totally understands that it's a different rider, and he becomes like a pony. I think that's really a key to our success. I believe we have to keep the horses happy, and that's been really, really an important part of his program. He at home goes in a snaffle."
Keenan continued, "He's incredibly special to me, but also to my entire stable. [When I first] sat on him, I felt like I couldn't ride him. I knew he was really talented, but I wasn't so sure that I was going to be able to mesh with him so well. My mom said to me that I had to learn to ride the horse because she wanted him no matter what, and she thought that he was incredible. I took a little bit of time in the beginning, but it was probably only about three or four months. Then we really hit our stride."

For the Thursday win, Keenan received a Blenheim EquiSports prize-giving coolerette, an Ethel M Chocolates Epic Premium Chocolate Gift Basket, an Ogilvy saddle pad and a Topline Design Ribbon Wreaths custom picture frame and gift certificate.