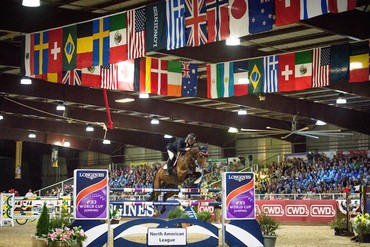 Chile's Samuel Parot and Atlantis. Photo (c) FEI/Erin Gilmore.
Last to go in a six-man jump off proved pivotal when Samuel Parot (CHI) delivered the fastest double clear in the $100,000 Longines FEI World Cup™ Jumping at the Sacramento International Horse Show on Saturday night. Aboard 12-year-old bay gelding Atlantis (Andiamo-Royal Bravour L), Parot shaved over half a second off the USA's Quentin Judge's target time of 37.55 seconds to finish at the head of the 24-starter field.

"The jump off was super," Parot said after the win. "The design was perfect. I had the opportunity to see all the rider make the mistakes, but my horse is very fast so it was unnecessary to leave out the stride."

Before Parot's round, both Richard Spooner (USA) and Karl Cook (USA) attempted to leave out a stride to the final fence, resulting in knockdowns for both. After watching the eight strides lead to mistakes on the Alan Wade-designed course, commentator and 1976 Olympian Buddy Brown said that if he were to attempt the course, he would put in the nine strides without having to sacrifice speed. Just as the words left his mouth, Parot did exactly that, proving that Brown's approach was the winning one.

"There is something I would like to say about Samuel because I know him very well because he shows a lot in France," said Eric Navet (FRA), third place finisher in the class. "Before I moved here to California, I met Samuel at many of the shows in France. He's a great guy, always happy, always friendly, and he's a very, very efficient and fast rider so I'm not surprised that he got the win tonight."

Parot's partnership with his horse only began in May, ahead of this year's Pan American Games. A broken collarbone at the beginning of the Spruce Meadows Summer Series sidelined the 50-year-old rider for a few weeks, but he was back to his winning ways shortly after. On his first trip to California this week, he won the $35,000 Open Stake World Cup qualifier with Atlantis, giving a strong indication that the pair were on top form for the big class on Saturday evening.

"Today (Atlantis) jumped super," Parot said. "This is our seventh show together. He likes a very soft ride. He's very sensitive, very careful. I'm very happy. I love California. It's my first time that I've come here."

Next on the schedule for Parot and Atlantis is a stop in Los Angeles for the Longines Masters event before moving onto Del Mar, Calgary, and Las Vegas to compete in the Longines FEI World Cup™ Jumping North American League qualifiers. He plans to head back to Wellington, his home base, by the end of the year.

The evening class, inside and under lights, proved to be quite an adjustment for many of the horses, especially after the long summer season in large, outdoor arenas. The Irish-bred stallion Flexible, a crowd favorite and winner of the first West Coast North American League event at Thunderbird, was first in the order of go with Rich Fellers but his round resulted in uncharacteristic rails.

"The horses are trying to adjust to the lights," Brown commented, after a few veteran riders also picked up faults. Additionally, the well-prepared course challenged riders throughout with its complex questions, demanding the highest level of precision from all starters.

"The principles are basically the same," Wade said about designing tracks indoors as opposed to the large, outdoor venues. "You try and build them over the couple of days, and this was the biggest test. And tonight, the bigger the class, the more fair and open the distances were. The other night, I felt I had to test a bit more control because we were at 1.45 (meters). And when we got the bigger fences, it was more scope tests, and I was just trying to be fair to everyone."

Many riders will continue to Los Angeles from Sacramento, where they will compete in another indoor venue and hope that they and their horses have gained valuable experience from the first indoor event of the fall season.

Results
1. Atlantis (Samuel Parot), CHI, 0 faults/36.97 seconds (JO);
2. HH Copin van de Broy (Quentin Judge), USA, 0/37.55 (JO);
3. Jonkheer Z (Eric Navet), FRA, 0/38.65 (JO);
4. Agamemnon (Alec Lawler), USA, 4/37.37 (JO);
5. Tembla (Karl Cook) USA, 4/37.48 (JO);
6. Chivas Z (Richard Spooner), USA, 4/38.84 (JO);
7. Calero (Allyssa Hecht), USA, 1/80.14;
8. Legis Touch the Sun (Jenni McAllister), USA, 2/83.28.

Source: Press release from FEI.