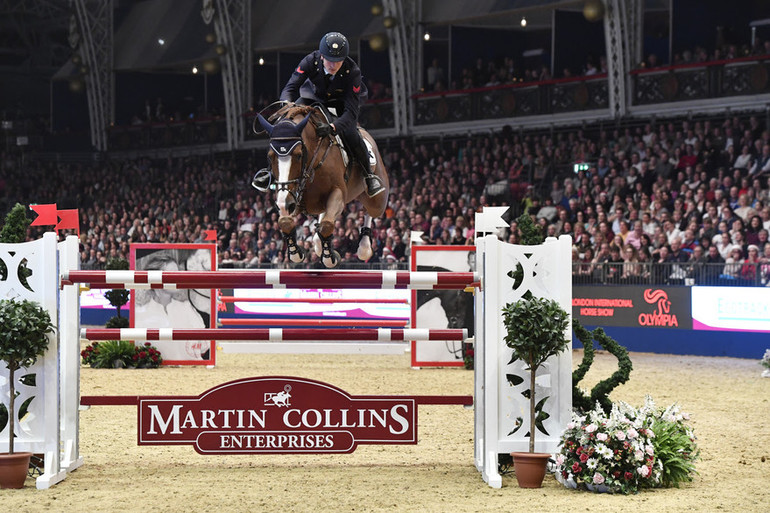 Lorenzo De Luca won Saturday's Martin Collins Enterprises Christmas Tree Stakes aboard Halifax van het Kluizebos. Photo (c) Kit Houghton/Horsepower.
Italian rider Lorenzo De Luca brought the crowd to their feet with a stunning performance in Saturday night's jump-off of the Martin Collins Enterprises Christmas Tree Stakes in London.
The Olympia crowd have taken the young Italian to their hearts this week and he did not disappoint, pulling off an audacious round on the white-faced chestnut by Heartbreaker, Halifax van het Kluizebos, to clinch victory from his Stephex Stables team mate Daniel Deusser on Hidalgo VG (Quadrillo x Andiamo).
The 1.55m competition involved a timed first round from which 14 went through to the jump-off. Ben Maher put up a spirited challenge to finish third and best British on the 8-year-old Don Vito (Quaprice Z x Jus de Pomme).
Lorenzo, a member of the Italian Air Force, is trained by Dutchman Henk Nooren and is based in Brussels with the Stephex Stables. This is his first appearance at Olympia, and the victory was his second this week. He will ride Limestone Grey in Sunday's Longines FEI World Cup qualifier presented by H&M, and Halifax in Monday's Grand Prix.
"Halifax is very fast and careful and he wants to do his best," said Lorenzo, 29, who is 17th in the Longines FEI World Rankings. "This is a super show. Everyone told me it was great, but now I know. It's a proper horse show."
The Italian star is now second in the H&M Leading Rider of the Show rankings, 18 points behind the runaway leader, Sweden's Malin Baryard-Johnsson, ahead of tomorrow's H&M Sunday.
Earlier in the day, Laura Renwick secured Britain's first outright showjumping win of the week in The Shelly Ashman International Ltd, E M Rogers (Transport) Ltd Father Christmas Stakes – a 1.45m accumulator competition.
Laura has only ridden her winning partner, Con Chilli (Con Air x Heraldik XX), for two months. "She's usually ridden by Yazmin Pinchen, but I have the ride on her as Yazmin is pregnant," Laura explained. "The other two horses I have here are also Yazmin's, but this will only be my second show with those. They are all going really well here and I am very fortunate to have them."
Laura was also in the final shake up of The Christmas Masters, in which the top seven leading riders of the show so far were eligible to compete.
In this class, riders nominate a fence to go up before they jump. If they jump it clear, the prize pot increases by £500; if not, the prize fund stays the same and the fence is dropped back to its previous height. After each round, all those still clear jump again until the fifth and final round, in which the jump-off is against the clock.
Laura, Sweden's Malin Baryard-Johnsson and Irishman Bertram Allen remained after four rounds, and went head-to-head for the winner-takes-all purse of £14,000.
Unfortunately, first-drawn Laura finished on four faults, but Bertram posted a fast clear, with a time that Malin could not match.
"It wasn't an easy class to win. Often, if you get to the fifth round, you've won," said Bertram. "It was difficult to know how fast to go as I was mid-drawn, so I didn't want to risk going too fast and having a fence down."
However, the young Irishman rode his round to perfection to take the spoils.
---
Source: Press release from Revolution Sports // Picture © Kit Houghton/Horsepower