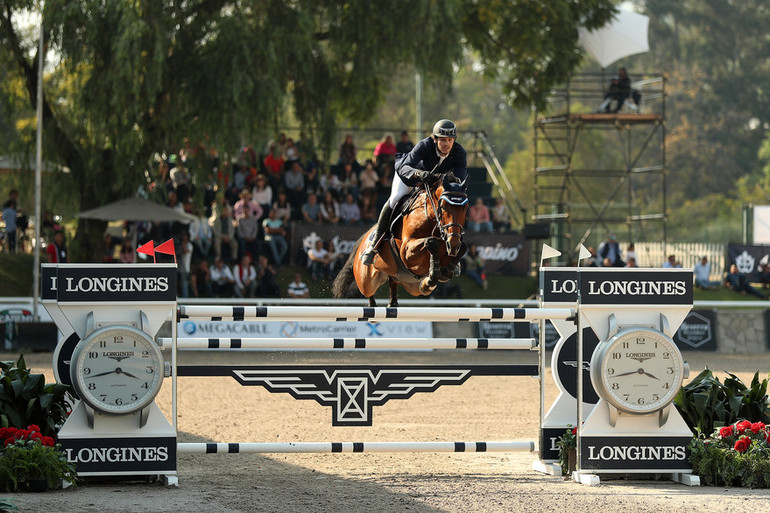 Luis Alejandro Placencia and Davinci won the Longines FEI World Cup of Guadalajara. Photo (c) Anwar Esquivel.
Under sunny skies, 25° C (70°F), in a large arena, 125m x 85m (410' x 279'), with almost 1,900 tons of brand new footing, Mexico welcomed an international field of twenty-eight starters in the $100,000 Longines FEI World Cup Jumping Guadalajara, presented by Scappino at the gorgeous Guadalajara Country Club. Seven horse-and-rider pairs advanced to the jump-off, representing four countries. With one Argentinean, a Frenchman, an American, and four Mexican riders, it was twenty-six year-old Mexican rider Luis Alejandro Plascencia aboard the Dutch stallion Davinci (Verdi x Concorde) who led the victory gallop, double clear in 40.66s.
The technical track, designed by Level 4 FEI Course Designer Guilherme Jorge, consisted of sixteen jumping efforts, asked its share of questions from beginning to end. An oxer at 1.65m wide at the far end of the arena, a triple combination adjacent to the VIP, and a wide triple bar towards the end of the course were where most rails fell. However half the class had one rail or less, a sign of excellent design and good sport.
Plascencia noted, "I really liked the track, Guilherme is my favorite course designer. The course was technical, but there were not any tricks in it. I loved it."
First to go, Fabian Sejanes (ARG) and C. Amalia Z (Crown Z x Damiro B), left the door open with a score of four faults and a conservative ride. Next in, Mexico's Gustavo Ramos and Izzy Miaki (Casa Grande x Cardento), took the lead, double clear in 42.50s. Both Eric Navet (FRA) aboard Catypso (Catoki x Calypso II) and last year's winner Francisco Pasquel (MEX) on Naranjo (Robin II Z x Quappa) made gallant efforts, posting solid times but each dropped the height of one jump on course, finishing fourth and third respectively. The sixth challenger in the jump-off, Plascencia and the talented 10-year-old Davinci, scored the only other double clear round, stopping the clock in 40.66s for the lead and ultimately the win. Last to go, American Sarah Scheiring on Dontez (Verdi x Wolfgang), also picked up four faults, but gained some valuable World Cup points finishing fifth overall.
Although we all know the importance of a good ride, Plascencia gave all the credit to Davinci. "My horse tries very hard over every jump. He is very consistent and has a lot of natural talent. I sit there and he does everything for me."
---
Source: Press release from EqSol for EqMkt // Picture © Anwar Esquivel