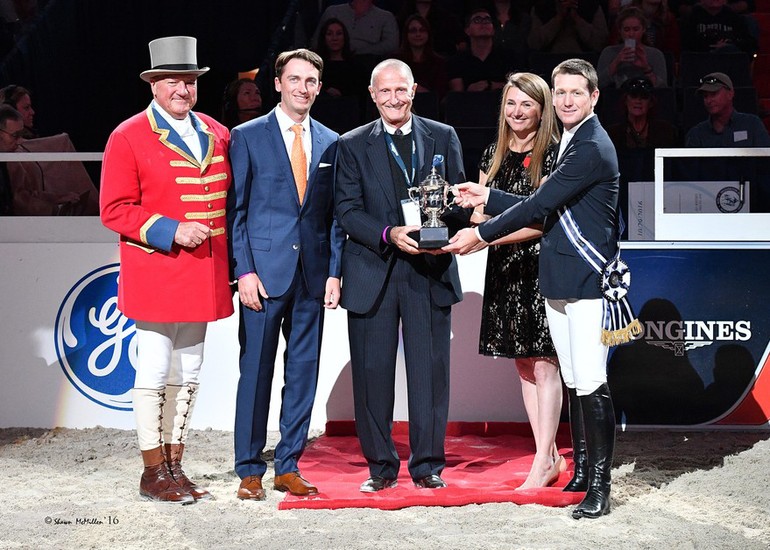 McLain Ward was honored with the inaugural George H. Morris Style of Riding Award, presented by ringmaster John Franzreb, Andrew Ramsay, George Morris, and WIHS President Vicki Lowell. Photo (c) Shawn McMillen Photography
Along with the presentation of top prizes in the Grand Prix, several other special awards were presented at the conclusion of Saturday night's competition at the CSI4*-W Washinton International Horse Show.
Lauren Hough was presented with the $10,000 Leading International Jumper Rider Award, sponsored by Robin Parsky, along with the Margaret Chovnick Memorial Trophy. She also earned the Leading Lady Rider Award, presented by Longines.
Ohlala was International Jumper Champion, and The Ohlala Group accepted the Leading Jumper Owner Award, sponsored by The Reid Family. Catherine Tyree (USA) earned the $10,000 Leading Under 25 Rider Bonus, sponsored by Sleepy P Ranch. Amanda Derbyshire (GBR) earned the Leading Foreign Rider Award.
The George Morris Style of Riding Award was presented earlier in the day to USA's McLain Ward. Created this year in honor of legendary horseman George H. Morris, the award goes to the International Jumper rider who best exemplifies the American style of equitation and jumping and the respectful, dignified, and workmanlike manner of a true sportsman.
Other celebrations included Frank Chapot's induction into the WIHS Hall of Fame and a special ceremony to recognize U.S. Olympic Team Silver Medalists McLain Ward, Beezie Madden, and Kent Farrington, as well as traveling alternate Laura Kraut and Chef d'Equipe Robert Ridland.
---

Source: Press release from Jump Media LLC / Picture © Shawn McMillen Photography