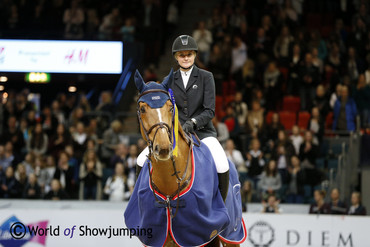 Petronella Andersson and Quenndal de Lojou HDC. Photo (c) Jenny Abrahamsson.
Petronella Andersson won Saturday's 1,45 joker class at Gothenburg Horse Show aboard Quenndal de Lojou HDC (Le Tot de Semilly) after a fantastic round in 45,56 seconds. Luca Maria Moneta - who has become a crowd favorite after his unbelivable win on Friday - was the one getting closest to Petronella's time when he crossed the finish line in 45,82 seconds riding Jesus de la Commune (Diamant de Semilly x Rocky du Carel).
Third place went to Steve Guerdat with Albfuehren's Happiness (Heartbeat x Lambrusco Ask) and Jur Vrieling took the fourth place with his new ride Arezzo VDL (Chin Chin x Heartbreaker).