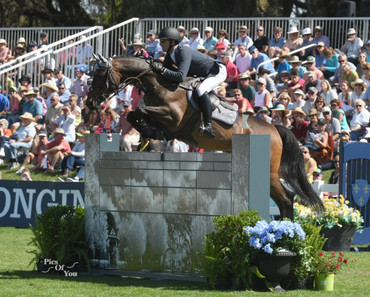 Andrew Ramsay and Stranger. Photo (c) Pics Of You.
Andrew Ramsay and Stranger, an 11-year-old Hanoverian gelding, posted a decisive victory in the $35,000 Sovaro CSI3*, a Longines World Ranking Competition, at the Live Oak International. Ramsay bested a starting field of 58 entries from10 countries, with 14 clear rounds to claim the win.
Ramsay and Stranger were the second horse-and-rider combination to enter the ring for the jump-off against the clock. The first rider in the ring, Irish Olympian Cian O'Connor with Concho, had posted a clear round in a time of 41.48 seconds. Stranger was asked for speed and he answered his rider's call. They crossed the finish timers in 39.27 seconds, two full seconds ahead. The pair would hold the lead for the rest of the class.
"My goal in the jump-off was to save the horse for tomorrow but be competitive and have a good pace from the first fence. It worked out today and I'm very happy with it," said Ramsay. "We call him Mouse because he can be a little afraid and spooky and can make himself a little small, but he is naturally a fast horse and today he made himself not so small.
"Every year (Live Oak International) seems to improve, and to have one class a day allows us to really focus and give the proper time to our horses and really enjoy the show."
The last rider on course, Devin Ryan, had the last opportunity to take the lead from Ramsay. With his mount, Eddie Blue, an eight-year-old KWPN gelding, he gave it a valiant try, but though the fences stayed up, the time was not there. Ryan and Eddie Blue posted a time of 40.36 to take second. O'Connor finished in third place.
"My horse has the mentality, heart and bravery, he has all the talent," said Ryan. "He's such a careful horse, always studying the fences and he has such a big stride and scope. To me he's perfect."
Bob Ellis, course designer for the 2012 London Olympic Games, erected a serious track with several tough questions for the horses and riders. A tight turn to a double combination and a triple combination of oxer, vertical, oxer followed by an airy vertical proved to be the nemesis of many a pair.
Live Oak International is the last chance for show jumping riders to qualify to compete at the Longines FEI World Cup Final, March 29-April 2, in Omaha, Neb. In the last leg of the Longines FEI World Cup Jumping North American League, riders not yet qualified for the World Cup Final will be pulling out all the stops to win Sunday afternoon's $100,000 CSI-W3* Longines FEI World Cup Qualifier, presented by Golden Ocala Golf & Equestrian Club.
---
Source: Press release from Live Oak International // Picture © Pics Of You