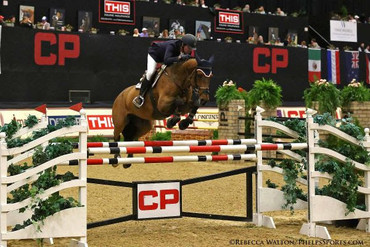 Roberto Teran and Woklahoma. Photo (c) Rebecca Walton/Phelbs Media Group, Inc.
For the first jumper event of the 2015 CP National Horse Show, athletes had to call on their horses' speed and accuracy. Forty-seven of the world's best gathered for the $35,000 International Open Jumpers Welcome Speed presented by Elm Rock LLC and Richard De Martini, but it would be Colombia's Roberto Teran and Woklahoma taking home the lion's share of the prize money with the fastest clear effort.
A qualifying event for Sunday's $250,000 Longines FEI World Cup Lexington, presented by CP, the $35,000 International Open Jumpers Welcome Speed required the athletes to be quick to make sure they were at the top of the leaderboard, but also careful in an effort to leave all the fences intact. The first pair to break the 67-second mark over Guilherme Jorge's track was Audrey Coulter of San Francisco, California, with Copernicus Stable's Domino. They set the pace to beat with a clear round in 66.47 seconds, which would be good enough for fourth place.
Lisa Goldman of Hawthorn Woods, Illinois, took over the lead six rounds later on Mary Goldman's Centurion B. They blazed across the finish line in a faultless 65.02 seconds, posting a time that looked like it might be good enough for the win.
Olivier Philippaerts of Belgium looked like he might be able to steal the lead on H&M Legend of Love, owned by Ludo Philippaerts and Gerald Nothdurft. They left all the rails in their cups, but broke the beam at 66.12 seconds, which would eventually earn third place behind Goldman.
"I watched her go, and she was very efficient and very smooth," noted Teran. "I wasn't trying to go for the win. Woklahoma is very fast and everything went to the plan and very smooth. I was surprised that I beat her time."
Goldman commented, "Centurion is not necessarily my speed horse, and there were definitely a few places that I could have been a little faster. I was really happy that I held on so long, but it wasn't a surprise to be beaten."
Both athletes were more focused on Sunday's main event and did not want to push their horses to the max. "I knew the turns were there, I thought I'd take them," explained Goldman. "I wasn't running all out - this isn't my final class, this wasn't where I wanted to be the fastest - so I just wanted to make my turns happen and be as efficient as I could. I left them all up, so I was really excited."
With Wednesday's win, Teran feels confident about the $250,000 Longines FEI World Cup Lexington, presented by CP. "Woklahoma has been doing the grand prix events down in Wellington and Calgary and all over the world now for two years; she's very solid," he said. "I think coming into Sunday she is going to be one of the contenders for top ribbons. She's very confident; she's super careful. At this point in her life she is ready for any class in the world."
Teran added, "The quality of the venue here is always the best. We always have the best of the best riders and horses. This is absolutely the top of the scale. Any win here at the National is amazing."


Source: Press release from Phelps Media Group, Inc.