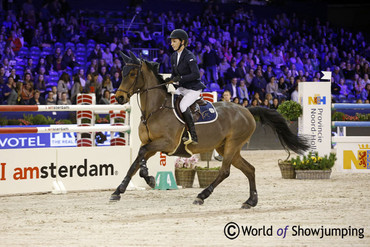 B Once Z and Katharina Offel - here seen in Amsterdam last weekend. Photo (c) Jenny Abrahamsson.
Two five star speed classes kicked off Saturday in Bordeaux, and it was Katharina Offel and Steve Guerdat that were the fastest against the clock. Riding B Once Z (Baloubet De Rouet x Lavaletto), Katharina Offel went to the top in the table A 1.45 Longines ranking class leaving Penelope Leprevost behind her in second with a round 0.44 seconds slower on Sultane des Ibis (Quidam de Revel x Elan de la Cour*HN). Third was another French rider; Philippe Rozier on Unpulsion de la Hart (Kashmir van Schuttershof x Nonstop).
The 1.45 table C class – also counting for the Longines Ranking – went to Steve Guerdat on Albfuehren's Memphis (Quinar x Carthago). Behind Guerdat followed Julien Epaillard on Sheriff de la Nutria LM (Diamant de Semilly SF x Papillon Rouge*), and Pius Schwizer on Anisette de Lassus (Sherman-Sitte x Blume la Borderie).