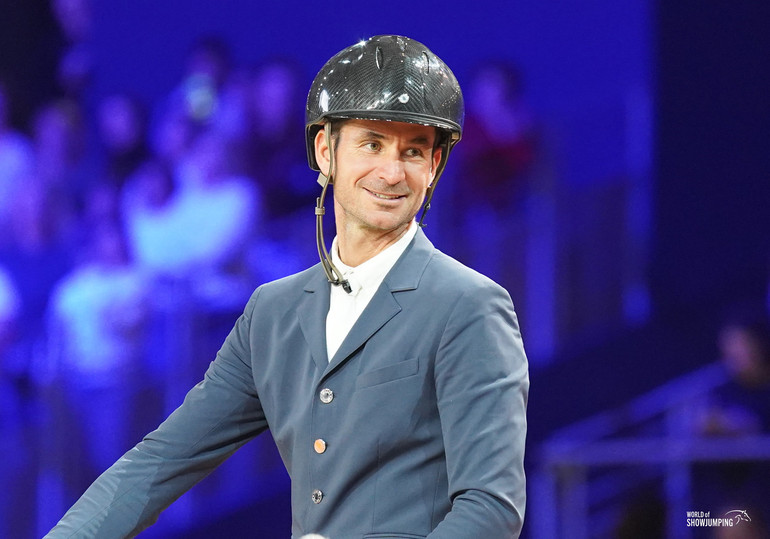 Steve Guerdat, winner of the Equita Masters presented by Hermès Sellier in Lyon. Photo © Nanna Nieminen for World of Showjumping.
Text © World of Showjumping
---
Reigning European Champion and current world number five Steve Guerdat (SUI) and the 11-year-old Caracho (Cassilano x Quick Star, bred by Jens Ritters) won Saturday night's CSI5*-W 1.60m Equita Masters presented by Hermès Sellier at the 2023-edition of Longines Equita Lyon.
With a double clear and a time of 41.76, Guerdat and Caracho took the win ahead of the host nation's Julien Gonin (FRA) and Estrella de la Batia (Diamant de Semilly x Lando, bred by Sabine Dechamboux) in second in 42.10 and Simon Delestre (FRA) aboard Olga van de Kruishoeve (El Torreo de Muze x Nabab de Reve, bred by Eric Polfliet) in third in 42.51.
The twenty best horse-and-rider-combinations from Friday's Longines Grand Prix were qualified to take part in the 1.60m Equita Masters. Jumped over two rounds, all twenty pairs returned to the second round – nine of them with a clear sheet and the hosts holding the lead: Julien Gonin and Estrella de la Batia had clocked the fastest time in the first round, followed by Julien Epaillard (FRA) and Donatello d'Auge (Jarnac x Hello Pierville, bred by Susana Epaillard) in second.
However, a fence down in the second round left Epaillard 6th in the end, while Gonin as the last man out could not match Guerdat's time. With fast clears in round two, Richard Howley (IRL) on Zodiak du Buisson Z (VDL Zirocco Blue x Dutch Capitol Z, bred by Haras Du Buisson) and Jana Wargers (GER) aboard Clash Royale (Clarimo x Wellenspiel, bred by Klaus Lehrfeld) slotted into fourth and fifth respectively.
"My horse jumped really good in the first round, I had a very good feeling," Guerdat told World of Showjumping after his victory. "I know he normally jumps even better when I get a bit more speed and I can leave some strides out, so I was confident in front of the jump-off. I had a plan and I could really stick to the plan that I had. I can take a lot of risk with him, but he is naturally not the fastest, so I thought that one of the French would catch me in the end. I was lucky that Julien Epaillard had one down, but then I thought that Julien Gonin was for sure going to be faster. However, he lost a bit on the last, and it was just enough for me to end up in front. I am really, really pleased with my horse, and it is always very exciting to win this kind of class – for the public and for the atmosphere, it was a nice day."
"I have had him since this spring," Guerdat said about Caracho. "I always had a very good feeling on him but somehow he wasn't really fighting for me, we had a lot of rounds with one down in the first 1.40m-1.45m classes we jumped. Then he started to jump good in Brussels this year, where he won the main class on Saturday and then he jumped really well in Barcelona – even though he had two down in the Grand Prix, I felt very good with him. He was good yesterday, and I have a feeling that he is starting to fight for me and it is a very pleasant feeling when your horse is enjoying what he is doing."
Guerdat, who is supported by Hermès, was full of praise for the main sponsors of the class. "We need this kind of support from these companies," he said. "They are dedicated to our sport and they try to not just to put their name in front but to make our sport a better sport and to grow together with our sport. Naturally, not just because I am supported by them, we can only be really thankful to have these kind of people behind our sport."