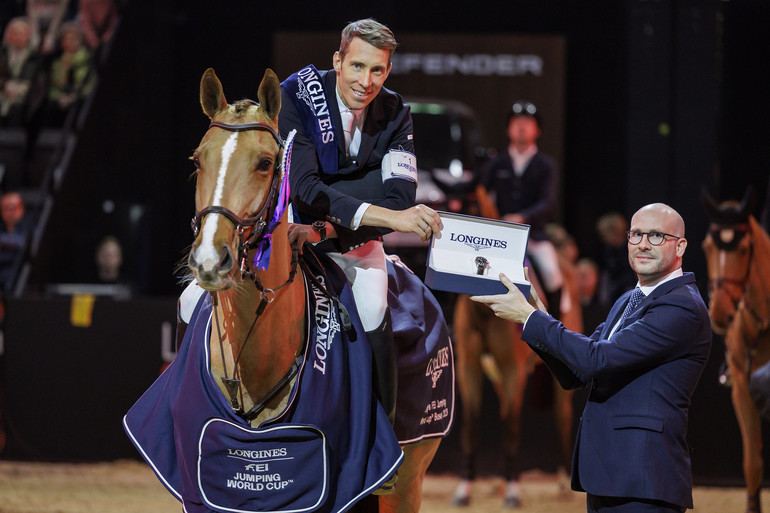 Sweden's Henrik von Eckermann and King Edward clinched their second superb victory of the Longines FEI Jumping World Cup™ 2022/2023 season in Basel, Switzerland today. Photo © FEI/Stefan Lafrentz.
Edited press release from FEI written by Louise Parkes
---
Sweden's Henrik von Eckermann and the horse he calls his "masterpiece", King Edward (Edward x Feo), clinched their second superb victory of the season at the Longines FEI Jumping World Cup™ 2022/2023 Western European League qualifier in Basel, Switzerland today.
Just as it did when they won at the third leg of the series in Verona, Italy in November, today's competition came down to a seven-horse jump-off against the clock and, second into the ring in the deciding round, the Swedish star and his wonder-horse set the rest a merry dance.
However Germany's Marcus Ehning and Stargold (Stakkato Gold x Lord Weingard) came very close to toppling them from the top step of the podium when racing home just 0.06 seconds slower to fill the runner-up spot ahead of Switzerland's Pius Schwizer and Vancouver de Lanlore (Toulon x Le Tot de Semilly) in third.
Just four countries were represented in the jump-off, with three riders from Germany, two from Switzerland and one each from Sweden and The Netherlands. And one of the most heart-warming moments of the day was witnessing 29-year-old German Pia Reich take her turn in the jump-off.
She earned her place in Basel with consistently impressive recent results, but the athlete ranked 279 would be taking on riders ranked considerably higher, including the man who holds not only the number one slot but the title of World Champion - von Eckermann. And she did herself proud when opting for a careful second clear with her 13-year-old mare PB Chaconie (Chacco-Blue x Kannan) to finish in sixth place at the end of a very exciting competition.
It was no mean feat to make the cut, thanks to a sharp first track set by course designers Gerard Lachat from Switzerland and Gregory Bodo from France. The time-allowed of 66 seconds played a major role as today's winner explained.
"They did a very good job - the time-allowed was a big factor so you couldn't take your time, you were always under pressure, you always had to move forward and of course with this pressure the faults were coming. If we had even two seconds more we would not only not have had the time faults but we would have had more clears. It suited my horse quite well, but I always knew in my mind that I had to keep going and I couldn't take my time anywhere", von Eckermann said.
It was last summer's Aachen Grand Prix winners, Germany's Gerrit Nieberg and Ben (Sylvain x Quincy Jones), who led the way against the clock and they set a good early target when leaving all the poles in place in 34.19 seconds. This time around there were two long runs on the course and the rollback to the planks at fence 11 - advertising the Longines FEI World Cup Finals which will take place in Basel in 2025 - proved pivotal as von Eckermann explained.
"It wasn't easy, especially after the long run to the previous jump when you picked up speed and then of course had the turn-back and then the combination (double), and you also had to get the angle right to that combination. So there were a few things you had to think about, but it was good sport!", he said after breaking the beam in 33.43 seconds.
The clock showed 40.56 seconds when Reich crossed the line but then Ehning set off at lightning speed with the brilliant Stargold and looked threatening every inch of the way.
Von Eckermann saw him go and admitted afterwards; "I was very worried about Marcus but my luck was that he went the six strides to the double (penultimate obstacle) and I got there on the five!"
The time difference was only fractional, 33.49 seconds going up on the board to leave Ehning in second place and that was where he remained.
The Netherlands' Kevin Jochems didn't want to take too much risk with his relatively new ride, the 12-year-old mare La Costa (Gitano V Berkenbroeck x Calvino Z), and brought her safely home in 35.37 seconds but Switzerland's Pius Schwizer gave it his all with Vancouver de Lanlore who stopped the clock on 34.03 seconds to slot into third.
And when the final Swiss contenders and last to go, 23-year-old Edouard Schmitz and Gamin van't Naastveldhof (Chacco Chacco x Toulon), lost a little balance on the turn to the penultimate double and left the first element on the floor it was a done deal. World champion von Eckermann had his second win of the series in the bag and moved even further ahead on the Western European League leaderboard. He has now accumulated 88 points to stand well clear of Frenchman Kevin Staut in second place on 63 and his compatriot Julien Epaillard in third with 62. And having competed with a variety of horses in eight of the 10 legs of the league so far, the Swede is planning even more World Cup action in the weeks ahead with King Edward.
"I always have a programme in my mind, and now he will do Bordeaux in three weeks and then three weeks after that he will do Gothenburg. And then he will have five weeks off and he will do the World Cup Final. The Final is really my big goal this year", he explained this evening.
Ehning said he was happy to finish second today. "It was a great class with only seven clear rounds, it was really exciting. The World Cup is a great series and this year would be my 20th qualification, so the Final is definitely a goal this season for me!" said the three-time winner who first held the coveted trophy aloft in Las Vegas, USA in 2003, then in Kuala Lumpur, Malaysia in 2006 and again in Geneva, Switzerland in 2010.
Third-placed Schwizer was delighted with Vancouver de Lanlore's performance. "It is important for me to have such a good horse back in my stable and I am very thankful to his owners. I will go to Leipzig next week and then Vancouver will have a break", said the man who added that competing in the Olympic Games "is definitely my goal for the coming years".
His compatriot Edouard Schmitz also has Olympic ambitions. "It is not every day that you can ride in front of your home crowd here in Basel and I am happy with my seventh place, but I would have been even happier to win!" said the man who produced the fastest jump-off round in a spectacular 32.04 seconds but whose pole down proved very costly today. "The goal is to qualify the (Swiss) team for the Paris Olympic Games this season and we will discuss the planning after this show", he added, clearly ear-marking a place for himself in the planning process.
Meanwhile with just four legs remaining, attention now turns to the next round of the Western European League in Leipzig, Germany next weekend where the battle for qualifying points for the Longines FEI Jumping World Cup™ 2023 Final in Omaha, USA gathers pace.