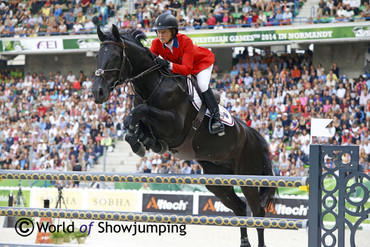 Beezie Madden and Cortes 'C' are in the lead overall. Photo (c) Jenny Abrahamsson.
Beezie Madden did not only help securing the American bronze medal in Caen today, the American rider also stepped up as the leading rider individually with her third clear round of the week. Cortes 'C' (Randel Z x Darco) looked fresh as ever around the demanding course, and the combination is for sure in a good place at a score of 0.16 ahead of Saturday's class - the last chance to earn a place in the top four final on Sunday.
In second place we find Sweden's superstar Rolf-Göran Bengtsson and Casall Ask (Caretino x Lavall I) with a score of 0.34. Also Casall Ask looked fresh inside the D'Ornano stadium, and his unplanned break earlier this year due to Rolf's injury has seemingly done more good than harm.
Danish rider Sören Pedersen and Tailormade Esperanza de Rebel (Rebel Z x Corofino I) hold an impressive third place at 3.49 penalty points with only one time fault in the ring today. Home rider Patrice Delaveau had to add four points to his 0.8 and dropped down to fourth place at 4.08 penalty points. Rodrigo Pessoa is number five carrying 4.10 penalty points and is once again fighting for a place in the top four final following his double clear in the team competition.
Top ten after Thursday's class are:
1. Beezie Madden (USA) / Cortes 'C' - 0.16
2. Rolf-Göran Bengtsson (SWE) / Casall Ask - 0.34
3. Sören Pedersen (DEN) / Tailormade Esperanza Rebel - 3.49
4. Patrice Delaveau (FRA) / Orient Express HDC - 4.08
5. Rodrigo Pessoa (BRA) / Status - 4.10
6. Gregory Wathelet (BEL) / Conrad de Hus - 4.16
7. Pénélope Leprevost (FRA) / Flora de Mariposa - 4.40
8. Daniel Deusser (GER) / Cornet d'Amour - 4.70
9. Gerco Schröder (NED) / Glock's London N.O.P - 5.29
10. Christian Ahlmann (GER) / Codex One - 5.32