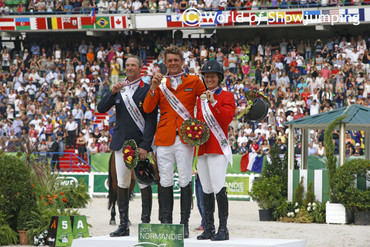 Top Three
This is what gold medallist Jeroen Dubbeldam, silver medallist Patrice Delaveau and bronze medallist Beezie Madden had to say following Sunday's exciting top four final in Normandy.
Jeroen Dubbeldam:
- On the pressure today:
"The pressure was on, and my own horse also put me under this pressure because he jumped a clear round with Patrice. But I must say, that clear round from Patrice with Zenith I was really happy about because this horse brought me so much this week and he really deserved to finish the tournament with a clear round. So I was very happy that he left this stadium with a clear, and was very proud of him."
- On the different horses and the format:
"I had a great feeling on all three horses, they all three give you the feeling that they want to jump the fences clear. You have only three minutes to prepare yourself and the horse you are on, and that is not long enough to change anything. All you can try to find is the strong points of the horses and to bring those forwards. Luckily I found the strong points of all three horses, and they gave me three wonderful clear rounds."
- If he managed to have some fun in the middle of the pressure:
"The pressure was really on, but I did enjoy it. I really enjoyed to get to be World Champion, but also to get to ride three cracks of horses."
- On the three different horses he got to ride:
"The first horse I rode was Orient Express, and I think the way I knew the horse was how I felt him today. He felt quite strong, especially to the left – but on the fence he gives you an amazing feeling and a fantastic reflex. He was very scopey, so what I expected was what I felt today on him. The second horse was Cortes; if you look at the horse you would say maybe he is not the most elastic horse, but to sit on he has a lot more blood than when you look at him. So he really surprised me. The third horse Casall, there I was a little bit afraid, because I had the feeling that he would get a little tired and empty towards the end. I knew I had to motivate him a little bit, and I had him as last so I thought maybe he would be too empty. But I felt already on the two fences in the collecting ring that he was not. I also felt there that there was more blood in him than I expected, and he gave me a fantastic feeling today."
- On Zenith SFN:
"I saw the horse on a show in Germany, he was jumping in the youngster classes for 7 and 8 year old horses. I knew that the Springpaarden Fonds Nederland (SFN) was looking for a horse for me to ride. I liked him a lot, and it was already partly owned by a Dutch owner – so I thought maybe it could be a horse for them to buy for me so I proposed this. The horse came one week to my stable, and I was able to try him – and I felt that the horse had incredible quality and a lot of scope. He was quite green at that moment though, and there was a lot of work to do – but we are not afraid of work. I think Zenith now shows what I felt back then."
- On how he rates the victory and the World Champion title:
"I don't like to compare things; I don't like to compare horses, I don't like to compare victories – all victories are nice. Maybe I was more emotional in Sydney than I am now, but I am also a few years older. Sydney was my first big thing to win. I was unbelievable motivated to come to these top four though, because in Jerez in 2002 I had an amazing horse – De Sjiem – and I was in fifth place ahead of the last individual rounds and I made a big riders mistake in the second round there which put my out of the top four final. I never forgave myself for that, until now – now I can do this."
- To watch his horse Zenith SFN with the other riders:
"It was interesting with my horse – he is the one with a little less experience out of the four in the final. I was curious to see how he coped with the circumstances, but I think he managed very well although he had a fault with Beezie and a fault with Rolf coming out of the triple combination. Maybe it was inexperience, I don't know. He is a horse that cannot handle too much pressure, and I think Patrice analysed him very good and did a very good as last rider to go clear with him and I was very proud that he did go clear."
Patrice Delaveau:
- On being so close to a gold medal:
"It is true that I am a little disappointed today, especially as the gold was in such close range. That is a little hard to swallow, but on the other hand I suppose it is good for the horses that we did not end up with a jump-off. Also Jeroen truly was the best today."
- On the time fault:
"I will probably have that round in my mind for a while. I lost it on the last line in that round."
- On being somewhat of a local hero:
"It's true – I live very close to here. I did my first competitions here in Caen, I was champion of Normandy. I think among the audience 70 % knew me, and supported me."
- On taking the bell boots of Cortes 'C' on the warm-up:
"It's how Beezie does it herself, and how her husband John told me to do it. So it was not something I came up with myself."
- On watching Orient Express with the other riders:
"I watched with great curiosity, it showed me very much how the other riders managed those difficulties that I may have myself with my horse so I look forward to watching those videos again."
Beezie Madden:
- On the bronze medal and her fantastic horse Cortes 'C':
"I am happy to come away with another bronze medal, we had a fantastic week here – and I am so, so proud of my horse. I always believed he was a championship horse, and I think he proved that today."
- On her last round on Orient Express HDC:
"I knew I had a rail and time fault in hand, so I felt that the pressure was a little off. Once I had a rail down in the triple, then it was a little bit more pressure – but it was a lovely horse to ride and gave me a fantastic feeling and also the confidence that he could jump the rest clear."
- On the three different horses:
"Zenith was pretty much what I expected; the most sensitive out of all of them. He was a lovely horse though. Casall felt a little cold to me in the schooling area, but he was beautiful to ride. Patrice's horse Orient I really loved, he gave me a super feeling and wants to do the job."
- On watching Cortes 'C' with the other riders:
"It was fun to watch my horse jump with the other riders, they are fantastic riders."