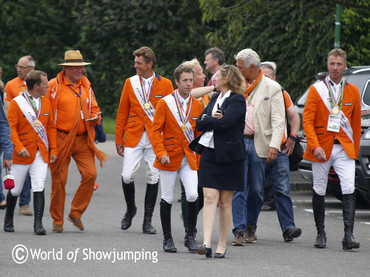 A happy Dutch crew on their way to the press conference. Photo (c) Jenny Abrahamsson.
The Dutch, French and American teams at the Alltech FEI World Equestrian Games met up with the media on Thursday afternoon. Here are some of their thoughts about the championship so far.
Robert Ridland - America's Chef d'Equipe - started off the press conference: "A medal is what we came here for. Obviously we were aiming for the gold, but where the sport is now, it is unbelievable how tough the competition is and how many unbelievable top teams there are, so much more than even four years ago in Lexington. It's a privilege to be here. We believe we have one of the best teams we have ever had. We have had a great summer leading up to it. We came here with incredible confidence and it was good sport, we gave it our all. "
Ridland on the depths of the US team coming in to the championship: "This summer we had ten riders over here competing. We had different teams in all the Nations Cups. It should be noted that there were five riders here. We felt we came here with five really strong combinations. Charlie Jayne has been here supporting us. He took part of the team and is a great team player. During the season we have been trying to match up the younger generation of riders with the veterans. We feel that we do have great depth for the future and we are very exited for our next generation of riders."
Rob Ehrens talked about the Dutch team and their day in the ring; "The spirit in the team was good already from this morning, but the competition was tough. It was an excellent course, big compliments to the course designer. It all stayed very close and as a coach your heart goes a little bit up and down, but it worked out fine. The boys were fighting together and also our fifth rider Frank Schuttert was there. When there is a good spirit in the team I think you can achieve a lot of things."
Philippe Guerdat on the French accomplishment; "It is a big day for our sport in France. Being good at home is always very difficult. The riders fought for each other today. We were a little bit behind yesterday, but we knew we had the chance to move up. All my riders were a part of this second place and I am very proud of my riders."
Maikel van der Vleuten was asked about the course and his feelings after he had the last fence down; "I think it was difficult enough. You needed a plan before you entered the ring. We had a bit unlucky start and then I also had one down at the last fence, and I was a bit afraid that we would have a bad day of luck, but then Jur did an unbelievable strong clear round. So there was still hope and we ended up with a win. "
Jur Vrieling had to tell about the difference between his not so good Wednesday and the much better day on Thursday; "I don't know, but maybe it was the concentration yesterday. We had two clear rounds and I saw it maybe a bit easy between fence two and three. Then we got a fault and the whole ride was not so good. Then the Chef d'Equipe said some strong words to me, and probably I needed that..."
Lucy Davis was asked about how it felt like having a medal from the World Equestrian Games at the age of 20: "It feels great. I am very lucky to be on a team that is so supportive."
Rob Ehrens on how he planned the season ahead of this big championship; "The strategy is always to get a good indoor season then see what teams to send for the Nations Cups to pick up points. You always have to be careful and not do too many shows and not too few shows so all the horses are in good shape and fit to compete. I had a plan in my head already in the beginning of the season and it worked out really well because the horses stayed fit, the riders were good and in the end we had a really strong team. It is a difficult road though and a lot can happen in the months towards the World Equestrian Games. "
All the teams expressed their satisfaction with the job course designer Frédéric Cottier has done so far this week. The faults have been evenly spread in all three rounds, and in the end the top five teams were within a rail of the gold medal. An unlucky touch has been the difference between winning the gold or being third or fourth.
Frédéric Cottier explained that today's course was a bit higher, but still it was important to build a fair course. Many of the faults that came today was not made because the course was too difficult, but because of the pressure that is on in a situation like yesterday.