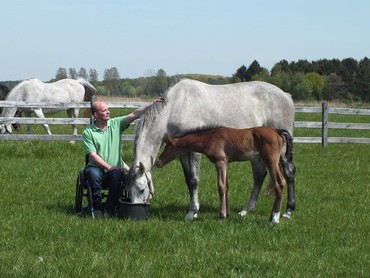 This week, World of Showjumping follows Belgian breeder Eric Goossens at his Haras de la Vie. Through Eric's blogs, our readers can get the insight into every-day-life as a breeder. However, Eric's life with the horses is quite a special one.
In 2012, his life changed dramatically: After selling his garden center and buying a farm to further expand his breeding as well as welcoming a son – Matteo – fate struck hard. Eric was crushed by a water barrel, and his lower limbs were paralyzed. Life would never be the same. Eric's facinating and emotional story can be read at the bottom of the blog.
*** Day one ***
According to Wikipedia a stud farm is an establishment for selective breeding of livestock. The word "stud" comes from the old English word 'stod', meaning "herd of horses, place where horses are kept for breeding".
And that is exactly what Haras de la Vie is and does. Moreover, we believe that we are selective breeders. We carefully select our mares and match them with the most suitable stallion. The ultimate goal is to breed a future Olympic show jumper. That is off course the wet dream of every breeder. But we should remain realistic. Our goal is to breed healthy and good jumping horses, capable for 1.40m+ level and more.
How do you start a breeding farm of show jumpers? People often say: "breeding is gambling" since you never know what you are going to get. There are a lot of odds. You can flip the odds a little by starting with some good mares. You will never breed a superb horse by crossing a donkey with a pony. Once you have the mare, you should pick the right partner. Even the best stallion in the world is maybe not the best stallion for your mare. You should know the ins and outs of your mare: what are the strong points and the weak ones? What do you want to improve and how can the stallion do this? But it takes time to get to know your mare, even if she has a nice paper with a famous sire, you can't predict how she will breed. This you only learn after 2 or 3 foals.
We continuously try to improve our herd and we truly believe that, for the moment, we have very good broad mares but 3 exceptional ones.
Tuut Tuut is a Dutch mare which came to us when she was only 18 months old. Now she is 16 years old, so we can honestly say that we know her. Tuut Tuut is a real Heartbreaker-mare, a lot of blood and great technic but still nice to handle. She has given 10 foals [1] and they all jump. The oldest horses jump 1.50m and her 2 sons are approved stallions. The youngest filly will stay with us to continue the bloodline. For the moment, Tuut Tuut is not in foal so we will do ICSI with her this winter.
Symphonie descends from Holstein lineage 4965. She is a full sister of the stallions Clinton I & II, the jumping horses Clinton 3 and Clintus, and a half-sister of the mare Hirtin which is the dam of Levisto Z. As you can see this lineage is loaded with real performance horses. We have 7 descendants [2] of Symphonie. Almost all of them were sold as a young horse, from Belgium to Russia. The oldest is still owned by Haras de la Vie and is being prepared for sports. Hopefully, he will do a nice job and make some great publicity.
And then there is Bella Vita, the full sister to Bella Donna which became world famous under the saddle of Meredith Michaels-Beerbaum. She has already given us 5 foals [3]. They all have an excellent conformation and are looking absolutely gorgeous. They were all sold as foal, but they all went to really nice places where they will get every change to develop so we expect to hear a lot of them in the future.
Later in the week, I will be back with more stories from Haras de la Vie.
Eric
---
[1] Dione (°2003, Clinton), Consul (°2004, Clinton), Antigone (°2005, Berlin), Hinde (°2007, Berlin), Cantor (°2009, Clinton), Cigale (°2010, Clinton), Bengale (°2011, Berlin), Catinka (°2012, Cumano), Katara (°2014, Kannan), Nikita (°2015, Nabab de Reve)
[2] Cobalt (°2010, Caretino, Casilla (°2011, Casall), Féline (°2012, Daydream), Cobra (2013, Casall), Finesse (°2013, Flipper d'Elle), Gracieuse (°2014, Casall), Tendresse (°2016, Tangelo van de Zuuthoeve)
[3] Cavallo (°2013, Cascavelle NT), Dolcé (°2014, Darco), Condor (°2015, Cornet Obolensky), Norton (°2015, Nabab de Reve), Catalina (°2016, Cornet Obolensky)
---