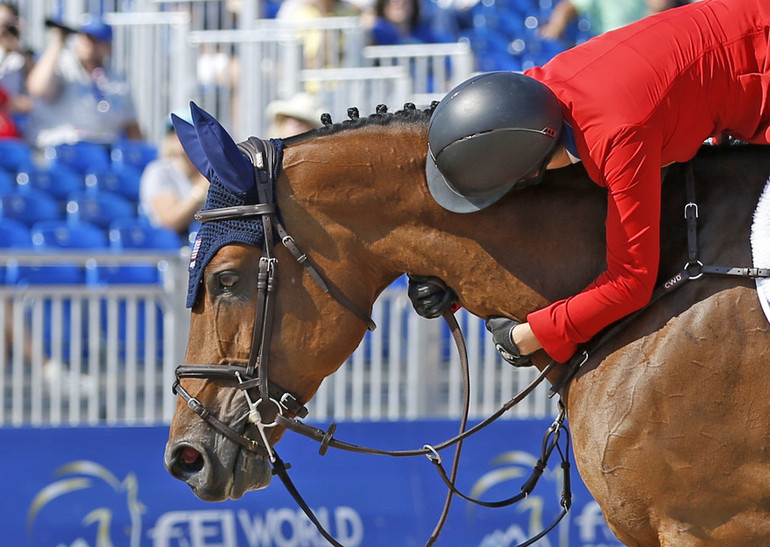 Adrienne Sternlicht gives Cristalline a kiss at the 2018 World Equestrian Games in Tryon, USA, where they won gold with the US team and finished 11th individually. Photo © Jenny Abrahamsson for World of Showjumping.
Text © World of Showjumping
---
Adrienne Sternlicht has announced the retirement of her wonderful 15-year-old mare Cristalline (Cristallo I x Caretello B, bred by Manfred Engelhardt).
Cristalline caught the attention of the showjumping world back in 2016 when she together with Australia's Chris Chugg finished 10th at the World Cup Final in Gothenburg, Sweden, at only 8 years old. Later that year, she was sold to Sternlicht. In 2018, after top-five finishes in Grand Prix classes in Wellington, New York, Devon, Knokke and Dublin, the two were part of the American team that won gold at the World Equestrian Games in Tryon, USA where they also finished 11th individually. Unfortunately, Cristalline struggled with injuries during the seasons that followed, but in 2022 she and Sternlicht made a comeback on the US team at the World Championship in Herning, Denmark – their last international appearance together.
On her official Instagram account, Sternlicht wrote:
"This weekend Stella left our stable for the proper, restful retirement she more than deserves. For over seven years she has been my reason - whether competing or not, she has been an immense source of inspiration and motivation for me. Her incredible mind, her unparalleled ability, and her aptitude to understand the gravity of a moment is what sets her apart from any other horse I've worked with. Her career was never without obstacles, however, enduring several injuries, and persevering to overcome more than most thought was possible. She taught me resilience, the power of true presence, and a greater depth of gratitude for another being than I have ever known. For these reasons, she has been my greatest teacher, the greatest gift of my life. For all those who have contributed to our partnership, especially Emma who knows so deeply how lucky we are to be her people, I am so so grateful. I am indebted to her in ways immeasurable and unexplainable. My best friend. What a privilege ♾️"
At World of Showjumping, we wish Cristalline a happy retirement!