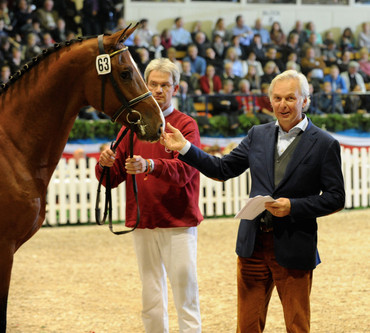 Theo Molenaers.
Theo Molenaers, operating internationally, is one of the leading horse traders in Belgium. But this is not all. Mr Molenaers is also a successful breeder. Holstein stallions such as Dinken, Commanchi and Clicksem were bred by him. A horseman through and through, who knows how important it is for sports horses to feel well in order to realise their full potential. To this end he uses Equine 74 Gastric.
You are internationally active as a horse trader and breeder. Have you ever encountered gastric problems when dealing with horses?

Theo Molenaers: "In my stables I've sometimes had horses with a very sensitive stomach. My vet at the time confirmed this assumption."
And how did you react?

TM: "We responded by treating the horses with GastroGard. In the long run, however, I wasn't particularly thrilled about it."
Why not? Didn't you achieve the desired effect?

TM: "Oh yes, we did. Omeprazol, the active agent, did quite clearly help. But I had no intention to use it continuously. First of all, because I wasn't convinced my horses should be fed this product all the time. Although Omeprazol, to put it simply, does block the mechanism pumping the gastric acid into the stomach, it does not address the underlying cause. Which is the excess gastric acid itself. Secondly, GastroGard is really expensive."
And how did you discover Equine 74 Gastric?

TM: "At an event in Schleswig Holstein I happened to talk to Christian Dietz, the manufacturer of Equine 74. He told me about his feed; then my business partner Jos Lansink and I tried out the feed. We were pleasantly surprised. After a while, all the horses felt more relaxed, with free movement, just simply better. I had a feeling they were in the best of moods."
Is it true that your horses' performance improved since they were fed Equine 74 Gastric?

TM: "Yes. Let me explain: Our sports horses today are subject to extremely high demands. They are forced to travel from one horse show to the next and frequently suffer from stress. It is our task to make sure that these top performers feel good all around. In which case they will perform almost automatically. Ultimately, this is what determines their market value. Continuously successful, healthy horses sell really well and are highly valued."
This sounds as if you wouldn't wish to do without Equine 74 Gastric anymore?

TM: "Yes, very true! Because, ultimately, this means that I literally kill two birds with one stone. My horses are physically fit and in great spirits – which makes them valuable. Besides, I am saving a lot of veterinary fees. After all, I'm feeding Equine 74 Gastric as a prophylactic ingredient to all horses. Since I started doing this, I haven't been seeing my vet quite as often."
For further informations about Equine 74 Gastric please call us directly under 0049 172 5184099 (Christian Dietz) or take a look at our website www.equine74gastric.com