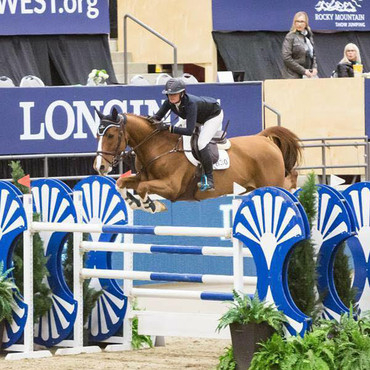 Appy Cara with Erynn Ballard in the saddle. Photo (c) Angelstone Tournaments.
Appy Cara, Erynn Ballard's international Grand Prix horse for the last two seasons, owned by Angelstone Partners has been sold to Ramiro Quintana of Argentina. Appy Cara, a 10-year-old gelding by Guidam x Casco, was twice third in the four-star Grand Prix competitions in Coapexpan this season, and also has several podium finishes in two-star Grand Prix classes.
Erynn Ballard said about the sale "In an Olympic year its a very hard decision to sell your best horse. The last two seasons with Appy Cara are what dreams are made of. We represented Canada in Mexico on the Nations Cup team and had huge results at the highest level of the sport. Angelstone Partners are huge supporters of both Keean and I as riders. It is their goal as a partnership to buy young horses, develop them and ultimately sell the horses. I am very proud to have been a part of the process with Appy Cara and to be a part of this huge sale. Angelstone Partners, Keean and I are looking forward to the future with the young horses we have now and the new ones that come out way. I wish Ramiro and Appy Cara the best of luck and I will be cheering them on all the way to Rio!!!
Keean White said about the sale: "It was difficult for us to sell the top horse in our stable, but I'm proud to know Appy Cara will get a chance to compete in the Olympics in 2016 with Ramiro, and that is very exciting for us. Erynn did a tremendous job developing this horse, and we look forward to developing many more with her in the coming years!"
---
Source: Press release from Angelstone Tournaments