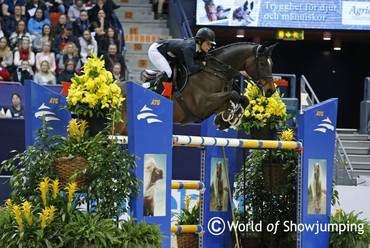 Linda Heed with Bee Wonderful. Photo (c) Jenny Abrahamsson.
Linda Heed's top ride Bee Wonderful (Cagliostro 931 x Indus 530) is sold to a Belgian young rider. The fourteen year old mare came to Heed as a five year old and together they have achieved a lot. The combination was recently placed in the World Cup opening in Oslo and also in the 3* Grand Prix in Stockholm. At their last show together in Gothenburg less than two weeks ago, Heed and Bee Wonderful ended sixth in the Grand Prix and had one unlucky pole in the World Cup.

Heed says that it will be hard to fill Bee Wonderful's shoes, but luckily she has several horses ready to step up in the bigger classes.


Source: Press release Linda Heed