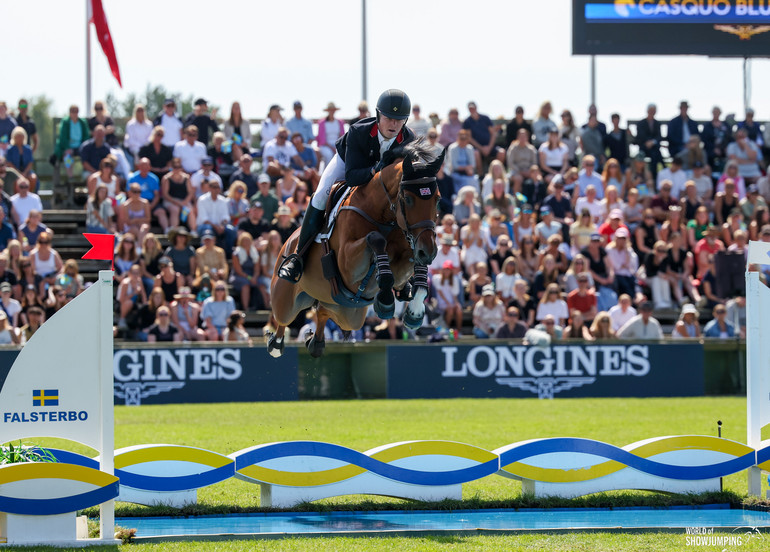 Harry Charles and Casquo Blue are on the list of nominated entries for the 2023 FEI Jumping European Championship. Photo © Jenny Abrahamsson for World of Showjumping.
British Equestrian has confirmed the ten horse-and-rider combinations that will form their list of nominated entries ahead of the 2023 FEI Jumping European Championship, set to take place in Milan, Italy, from 29 August – 3 September this year.
The nominated entries are:
Harry Charles with Ann Thompson's Aralyn Blue (Chacco-Blue x Ludwig AS, breeder Franjo Udovc) and Stall Zet's Casquo Blue (Chacco-Blue x Carthago Z, breeder Gestüt Lewitz)
Tim Gredley with Unex Competition Yard Ltd's Medoc de Toxandria (Der Senaat 111 x Kelvin de Sainte Hermelle, breeder W. Dierckx)
Samuel Hutton with Caramello Company's Oak Grove's Laith (London x Quaprice Bois Margot, breeder S.C. E. A. Riverland)
Ben Maher with Charlotte Rossetter, Pamela Wright and his own Dallas Vegas Batilly (Cap Kennedy 2 x L'Arc de Triomph, breeder J. Viollett), Charlotte Rossetter, Pamela Wright and his own Faltic HB (Baltic VDL x Concorde, breeder H. A. Brinkman and M. Huisman) and Jane Forbes Clarke's Ginger-Blue (Plot Blue x Royal Bravour, breeder P. Verberne)
Jessica Mendoza with her own Play (Luidam x Diamant de Semilly, breeder E. von Essen)
Donald Whitaker with Reitsportanlage Dagobertshausen GmbH & CO.KG's Di Caprio (Diarado x Cassini I, breeder Harms Carsten)
Joe Whitaker with Jessica Crane's Hulahupe JR (VDL Bubalu x Indoctro, breeder J. Reitsma)
The selected squad of four combinations and one reserve combination to travel to Milan, plus non-travelling reserves, will be announced by 7 August.