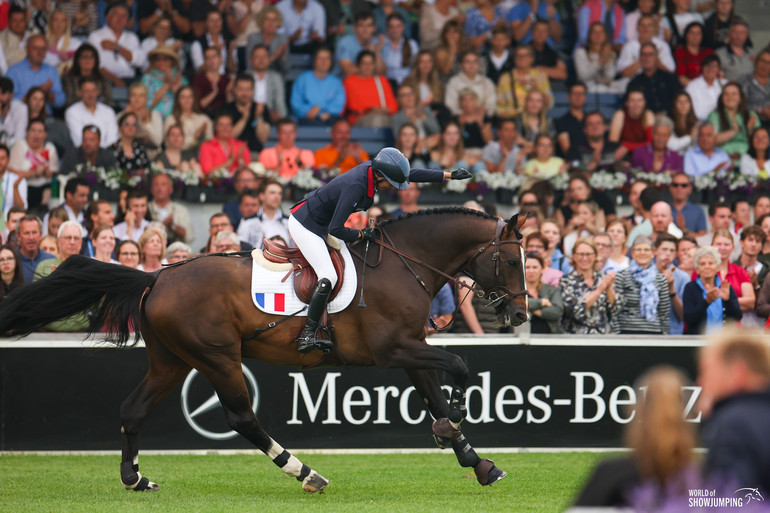 Megane Moissonnier and Cordial during the Mercedes-Benz Nations Cup in Aachen this summer. Photo © Jenny Abrahamsson for World of Showjumping.
The 14-year-old stallion Cordial (Casall x Chicago Z, bred by Hans-Hermann Gempf) will in the future be seen with Ireland's Denis Lynch.
Produced by Laurent Guillet – who also owned the stallion, France's Megane Moissonnier took over the reins on Cordial in the spring of 2019 and for the past four years the two have been a successful duo. The pair jumped double clear in this year's CSIO5* 1.60m Mercedes-Benz Nations Cup in Aachen, placed 9th in the CSI5* 1.60m Rolex Grand Prix in Dinard after a double clear round, and was part of the French team at the 2023 FEI Jumping European Championship in Milan this summer. During their final appearance together at the 2023-edition of Longines Equita Lyon, Moissonnier and Cordial placed 11th in the CSI5*-W 1.60m Longines Grand Prix and 6th in the CSI5*-W 1.60m Longines FEI Jumping World Cup.
On her official Instagram account, Megane Moissonnier wrote: "Cordial, it is with a lot of emotions that I have to let you leave for new adventures. You have been my most faithful partner during these 4 years by your side, you have been the horse of all the first times in my sporting career, you allowed me to introduce myself at the highest level and you made me the rider I am today. You will always have a very special place in my heart and words will not be strong enough to say thank you for everything you gave for me in the ring. Thank you for all the smiles you gave me and all these timeless moments. Have a good journey my champion. Thank you to everyone who participated directly or indirectly in this great adventure, who made it possible, and to all the people who took such good care of this champion."