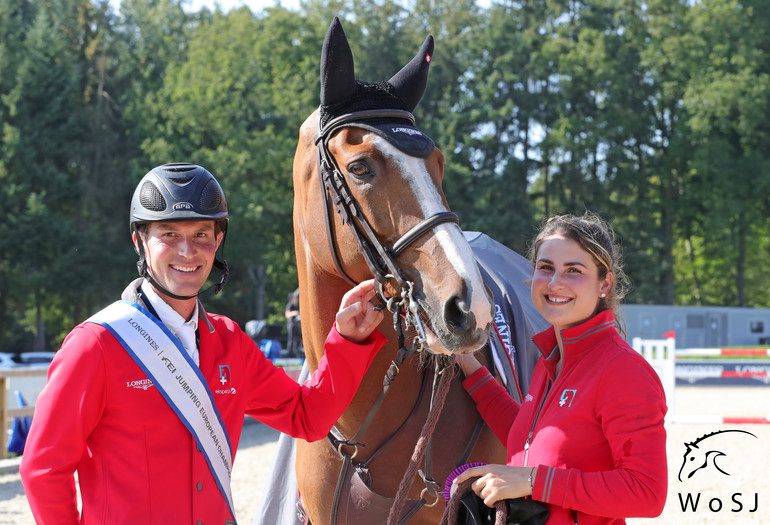 Elian Baumann, Campari Z and Nathalie Donski at the 2021 European Championships in Riesenbeck, Germany. Photo © Jenny Abrahamsson for World of Showjumping.
Switzerland's Elian Baumann has announced the retirement of his now 16-year-old Campari Z (Contact van de Heffinck x Platini M). In 2021, Baumann and Campari Z were a part of the Swiss team that won gold at the European Championships in Riesenbeck, Germany. During their years together, the two took numerous international victories at venues such as Crans Montana, El Jadida, Gorla Minore, Mannheim, Riesenbeck, Rabat and Zandhoven. In May, the pair did their last international appearance at CSI4* Bourg en Bresse in France.
On his official Instagram account, Baumann wrote: "My Horse of a Lifetime. Our journey began over eight years ago and the memories we have made together will always be with me. Thanks to you: We made it into the "Elite Squad", celebrated our first national GP victory, competed in our first 5-Star Show and Nations Cup and won the European Team Championship in Riesenbeck. You have made me the rider I am today and no one could have asked anymore of you. You have truly earned your retirement and we now look forward to making new memories outwith the Showjumping Arena. Enjoy it Champ. You deserve it! A huge thank-you also to Riccarda. We owe you and your Campari so much. Without your continuing support and trust in us over the years none of our successes would have ever been possible!"
At World of Showjumping, we wish Campari a happy retirement!