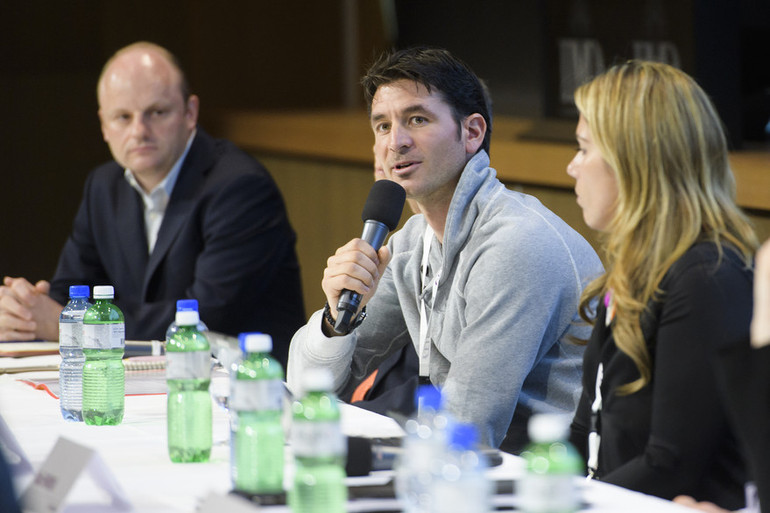 David Sim (Director, Group Broadcast & Strategy at CSM Sport & Entertainment), 2012 Olympic Champion Steve Guerdat and Daniela Garcia (MEX NF, Chef d'équipe, organiser CSIO Coapexpan) at today's FEI Sports Forum in Lausanne. Photo (c) FEI/Richard Juilliart.
Those were the words of Steve Guerdat during the opening session at the FEI Sports Forum 2017 in Lausanne on Monday morning, as the future of the FEI Nations Cup Jumping was up for debate.
A panel consisting of Nayla Stössel (President, Longines CSIO Switzerland St. Gallen), Daniela Garcia (MEX NF, Chef d'Equipe, organiser CSIO Coapexpan), Rob Ehrens (Chef d'Equipe NED), Steve Guerdat (athlete, Olympic champion), Jack Huang (FEI Regional Group VIII Chair) and David Sim (Director, Group Broadcast & Strategy at CSM Sport & Entertainment) gave their input to moderator Stephan Ellenbruch (President, International Jumping Officials Club) as did several of the participants from the National Federations – as well as riders and representatives from the International Jumping Riders Club and Jumping Owners Club during the two-and-a-half-hour discussion, which probably could have kept on for several more hours.
"It's just about the prize money at the moment," said Guerdat, who had flown in from Mexico for the occasion and will have to return back to Miami for the next leg of the Longines Global Champions Tour where he will participate later this week. "I think we should concentrate on making the Nations Cup the best product we can, so that the sponsors and money will follow once the product is there where it should be. The main investment should be done on how to make this product so good that the sponsors are willing to put money into it, and not just thinking about money driving the whole thing."
As to the format of the Nations Cup-series, Guerdat said: "I don't think we should change the format that much (…) It should stay as it is."
Guerdat got support from Nayla Stössel, "We need a sustainable solution. We change something almost every year. It's very hard to sell something even our own community really does not really understand 100 %."
"Steve basically hit the nail on the head. If you take care of your product, everything else will follow," said David Sim – who also identified some of the Nations Cup's weaknesses – such as the current rules where some events count for point collecting and some don't, confusing the audience. "The qualifying aspect has to be meaningful," Sim said.
Sim also came with an outsider's and expert's approach on the format, to make it attractive for a non-equestrian audience. "I would want to see more jeopardy. You need to communicate to an audience that every round matters. And if it doesn't, it is a really hard thing for the audience that does not really 100 % get the sport."
If keeping the format as it is, Sim came with a few recommendations. "How do I use the product to tell a complete different story? I don't betray the live-event, because I know there is a very engaged audience that will consume it and understand it. I then need to look through different presenting and production techniques, better use of graphics – to articulate how that works. So, if I use technology or virtual reality to show in fact the course walks – how you walk the course – then I can show in one minute the challenge that you will face. I can articulate the risk and reward of that challenge, which by coincidence is a very natural place for an insurance company to want to tell its story," said Sim about how to make the Nations Cup in its current form more attractive from a media and marketing perspective. "A lot can be done to develop the product in that way, but it is not cheap – because your going away from just pointing cameras at a live entity."
The number of qualifiers were also discussed, and Dutch Chef d'Equipe Rob Ehrens was one of those that find the current amount of qualifiers to work well – getting support from Guerdat. "Is there a right number?" asked Sim. "The most important is clarity on why the events matter, and where it leads."
Both Ehrens and Guerdat spoke for keeping the different levels on the Nations Cup, not labelling all as five-stars. "I think it is a good thing, especially when we look into the future of our riders," said Ehrens. "If the new riders that are coming up go straight to a show where the level is too high, they get destroyed. They get to a level which they have to compete in that they are not ready for. If you look into our system, this makes the riders climb the ladder – from the two-, three- and four-stars and they can grow into it. You can grow into a member also in the first division."
"I think it is a good thing that we have different CSIOs. You can not just send everybody to the five-star level one day, when they are not up to that level yet," said Guerdat. "So, it is very good to produce new riders and new horses over three-star and four-star CSIOs."
"Well, that is a really rich story to sell," said Sim. "What it also gives you is a future and a long-term value, because you are not just selling the stars right now. You are selling a long-term-view of the people who can be the future of the sport, which allows their peer group and age group to connect easily and to follow them."
"It's important that we show good sport," said Nayla Stössel. "It's of no interest for any of us to have five-star shows and see teams struggling, and show bad images of our sport."
Irish rider Jack Dodd, 23-years-old, asked for the word and said: "It is very important to have all levels, three-, four- and five-star because for the likes of myself and Michael Duffy – young riders coming through – it is very hard for us to get into three- and four-star shows. And, this is easier because it is through the National Federation. I think to get into three- and four-star shows now, it's gotten crazy. Even some two-star shows we get asked for money to enter. Realistically, the Nations Cups are our best opportunity to come through. For example, I am around rank 300 in the world at the minute – but I don't even look at the ranking because it is of no benefit unless you are in the Top 100." Dodd got support from Duffy, who said: "Without the federation, without the lower league the step up would not be possible."
No one seemed to be keen on the idea to merge the Nations Cup and Grand Prix together as a way to strengthen the series. "Keep them both co-existing," said Nayla Stössel who added that it's still important to work towards making the Nations Cup the highlight of the show. "We have to stress the uniqueness of this class, but we should not forget about the rest of the context of the tournament."
Steve Guerdat had spoken with some of his rider-colleagues, and expressed their opinion. "We thought no," said Guerdat on the idea of merging the two competitions. "After last week, we definitely think no. I think we saw with the GCL in Mexico that mixing team and individual is no good at all. I think especially for the audience; you don't understand – it is not clear. Team competition should be team competition and individual competition should be individual competition. I don't think it is a good idea to mix the two."
"We think the Nations Cup should be the main product of the CSIOs," Guerdat continued.
The panel agreed that perhaps a better timing would help the series, and that Friday can be a difficult day to attract audience as it's a normal work day. "Why not on Sunday afternoon, if that day brings the most people. If some shows prefer to have it on a Saturday because they can bring more people then, I think let's do so. The best example is Aachen, that has the Nations Cup on the Thursday evening – that is the right time for this competition."
"Also, we should do something on the ranking points. I think Nations Cups should give more ranking points," Guerdat added. "Then we can get more attraction to it again, and for the best riders to come to the best shows with their best horses."
"The Nations Cup is the most important product the FEI has," commented the Greek Equestrian Federation's representative. "It's our legacy, our tradition, our history and our soul. When we make changes we must be very careful. I am not sure all these changes that have been made have helped. One of the reasons we don't have a very good product, is because we keep on changing it. We seem to forget what it has done for our sport. If we have a big sport today, it is because of the Nations Cup."
"We expect a solid, clear statement from the FEI that the Nations Cups are no. one priority," was the conclusion from Greece.
You can watch the full session 'Future of FEI Nations Cup Jumping' from the FEI Sports Forum 2017 here.
---
Text © World of Showjumping // Picture © FEI/Richard Juilliart