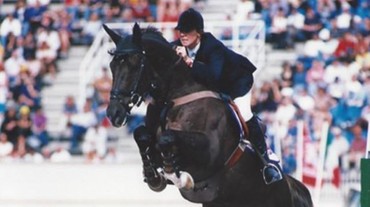 Abbervail Dream with Di Lampard in the saddle.
Di Lampard's former top horse Abbervail Dream has passed away at the age of 28. Mac, as he was known by all, lived out the twilight years of his life at rider Di Lampard and Dietmar Ackermann's Spring Farm in Oakham, Rutland, Great Britain.
Mac was bought in 1990 in Ireland by Robert and Dina Verburgt as a 3 year old unbroken liver chestnut gelding from Dr. Noel Cawley. After he was broken to saddle in Ireland he moved, aged 4, to Di Lampard who started competing him in novice classes and they began a journey which would touch many lives. Di and Mac quickly established a close bond which was to last a lifetime.
In 1993 as a 6 year old Mac qualified for three young horse finals at the Horse of the Year Show but a collecting ring accident left Di with a broken leg. At the age of 7, Mac went to Hickstead and won the Queens Cup that same year jumping his first World Cup at Olympia in London. This marked the start of a highly successful International career during which the combination became the mainstay of the British team.
Di and Mac made their debut in the British team at CSIO Rotterdam when he was eight years old and this was followed by over 40 appearances in the British Team. Mac's last appearance in the ring was at St Gallen CSIO in 2003 in a Nations cup career spanning a decade. In 2004 Mac was officially retired at Hickstead with his dedicated groom of many years Hillary Thompson taking care of him that last time.
Di and Mac went to two FEI European Championships (Hickstead and Arnhem) and two FEI World Equestrian Games (Rome and Jerez).

Source: Press release