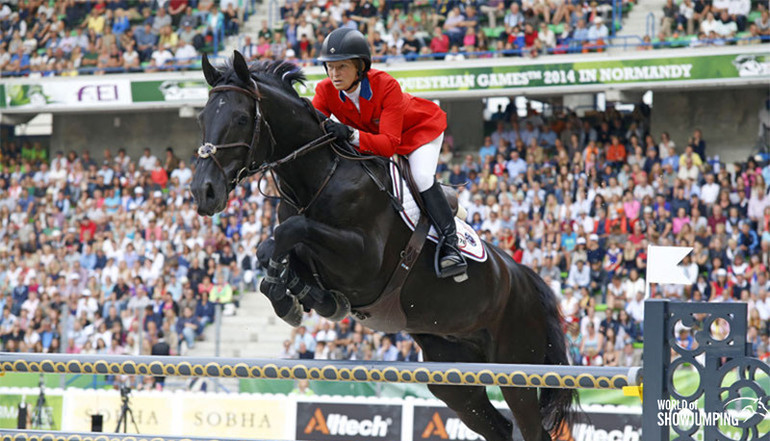 Cortes 'C' with Beezie Madden at the World Equestrian Games in Caen in 2014. Photo © Jenny Abrahamsson for World of Showjumping.
Beezie Madden's former top horse Cortes 'C' (Randel Z x Darco, bred by Bart Clement) has passed away at the age of 21.
Cortes 'C' began his international career under Belgium's Gregory Wathelet, before he was sold to Madden's long-time supporter Mrs. Abigail Wexner in 2011. Madden and Cortes 'C' went on to do great things together – taking team silver for USA at the Olympics in Rio in 2016 and double bronze at the World Equestrian Games in Caen in 2014, as well as jumping to major Grand Prix, World Cup and Nations Cup victories at Hickstead (2015 and 2014), Lexington (2014), Barcelona (2014), Chantilly (2013), Wellington (2013), Spruce Meadows (2012) and Valkenswaard (2011) to mention only a few of their many successes together.
On the John Madden Sales official Instagram account, Beezie and John Madden wrote: "We are saddened to announce that Cortes 'c' passed away peacefully yesterday. Cortes, ironically nicknamed "Tiny" in the barn, due to his huge size, joined our team in 2011 when he was purchased by Mrs. Abigail Wexner. With his signature leg crossed style over the jumps, he'd won over legions of fans, and was immortalized as a Breyer Horse in 2016.
Tiny contributed to numerous U.S. Nations Cup teams, including at the 2013, '14 and '15 Furusiyya FEI Nations Cup Finals (Spain). In 2013, they won the Global Champions Tour Grand Prix of Chantilly (France). Tiny also was a back to back winner of the Longines King George V Gold Cup in 2014 and 2015. At the 2014 Alltech FEI World Equestrian Games, he helped the US Team to a bronze medal before Cortes was ridden in the "Final Four" competition, jumping four clear rounds and earning the "Best Horse" title, and Madden the individual bronze medal.
Cortes helped Team USA towards a silver medal in the 2016 Olympic Games in Rio before an injury sidelined him before the team final. He was officially retired from competition in 2017.
Clark Shipley, his former groom who passed away in 2020 after a battle with cancer, once said to the Chronicle of the Horse that Tiny was "the friendliest horse you'll ever meet in your life. He's all over you at all times, mauling you. He loves attention. You could pretty much do anything to him…He's been friendly from the start." We have no doubt Clark was waiting for Tiny yesterday with bags of carrots on the other side.
He stayed the friendliest horse on the farm until the end, loving to greet tours and take pictures with fans who visited him in Cazenovia, New York. There was no one who had the pleasure of meeting or working with Tiny, whose life he didn't impact.
"Tiny was one of a kind. With top results as a young horse with Gregory Wathelet and then years of being at the top of the sport with our team, I was blessed to have him in my life. I will forever be thankful to Tiny and Mrs. Wexner for our years together. His passing leaves a hole in all our team's hearts," said Beezie Madden."
At World of Showjumping, our thoughts go out to all those close to Cortes 'C'.