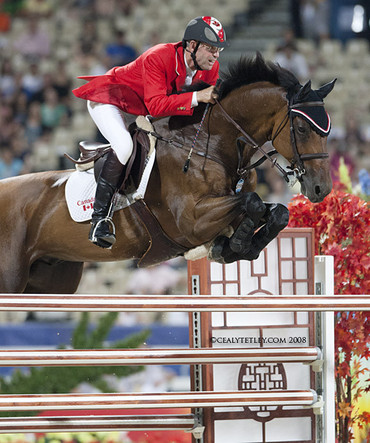 In Style and Ian Millar secure Team Canada's silver medal at the 2008 Beijing Olympics. Photo (c) Cealey Tetley Photography.
Ian Millar's former Olympic ride and medal winning horse In Style has passed away at the age of 20. The Holsteiner gelding by Acord II x Lord was humanely euthanized on September 27 following four wonderful years of retirement. His final days were filled with time out in the field with his 'girls' and the occasional leisurely hacks.
Imported by Sue and Ariel Grange in 2003 from Holland, In Style will always be remembered as the mount who carried famed Canadian equestrian Ian Millar to the fulfillment of his Olympic dreams. Having already proved theirs was a successful partnership, the duo laid down the clutch ride at the 2008 Beijing Olympics to secure Team Canada's silver medal - the first team medal in showjumping in 40 years.
A year earlier, they had been instrumental in Canada's team silver medal at the 2007 Pan American Games in Rio de Janiero, Brazil, where In Style and Millar also finished fourth individually.
During his impressive career, In Style became a fixture on the Canadian Equestrian Team. Always a fan favourite, he made five Nations' Cup appearances, helping lead Canada to victory in four of them. Other career highlights included three World Cup Qualifier victories, a win in the $200,000 CN Reliability Grand Prix at Spruce Meadows, and two Canadian National Championships (2004 and 2006).
An injury during the 2009 season sidelined In Style, but after a year off and a full recovery, he triumphantly returned to the ring with Millar in 2011, where he continued to add more impressive finishes to his already extraordinary resume. That would be the pair's final season together, as In Style was retired to Lothlorien after giving so much to Millar and the entire Canadian Equestrian Team.

Source: Press release from Equine Canada