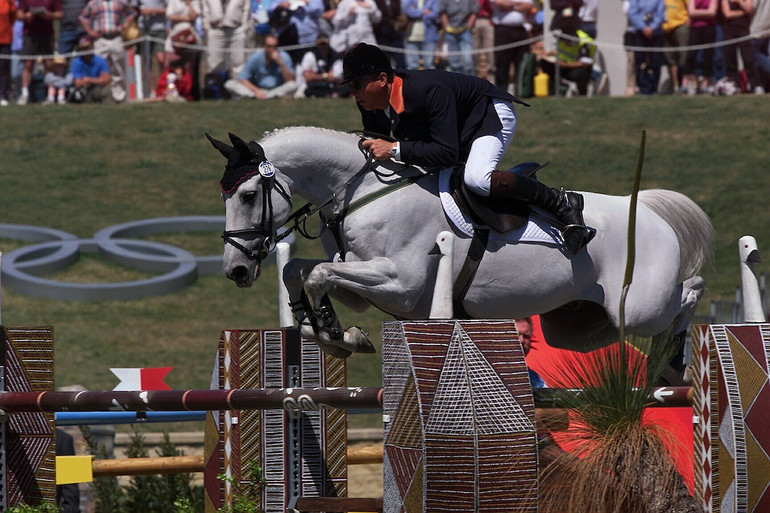 Jeroen Dubbeldam and De Sjiem at the Olympic Games in Sydney in 2000. Photo © Dirk Caremans/hippofoto.be.
Jeroen Dubbeldam's 2000 Olympic Champion De Sjiem has passed away, at the age of 33.
On his official Instagram page, Dubbeldam wrote:
"With a heavy heart we say goodbye to De Sjiem (33) today. 🖤
Grateful for all the amazing success you brought me but mostly for all the lessons learned and time spend together.
A friend, a teacher and a companion;
You made me better, as a rider and a person.
You have been part of all the success stories, even long after your retirement.
Thank you for teaching me, thank you for everything.
Jeroen"
With Dubbeldam in the saddle, De Sjiem won the individual gold medal at the 2000 Olympic Games in Sydney, Australia, and the two also represented The Netherlands at the World Equestrian Games in 1998 and 2002 as well as at two European Championships in 1999 and 2001. In 2001, Dubbeldam and De Sjiem also won the world's most prestigious Grand Prix – the Grand Prix of Aachen. "The most special horse in my career was De Sjiem," Dubbeldam told World of Showjumping back in 2019 in our series 'That Special Bond'. "He defined my career and put me on the map. I have a few nice titles, but in our sport the pinnacle of what you can achieve is of course the Olympic title and he brought me that."
Dubbeldam named his stable in Weerselo after De Sjiem, who spent his retirement on the farm until he passed away.
Our thoughts go out to Dubbeldam, and all those close to De Sjiem.