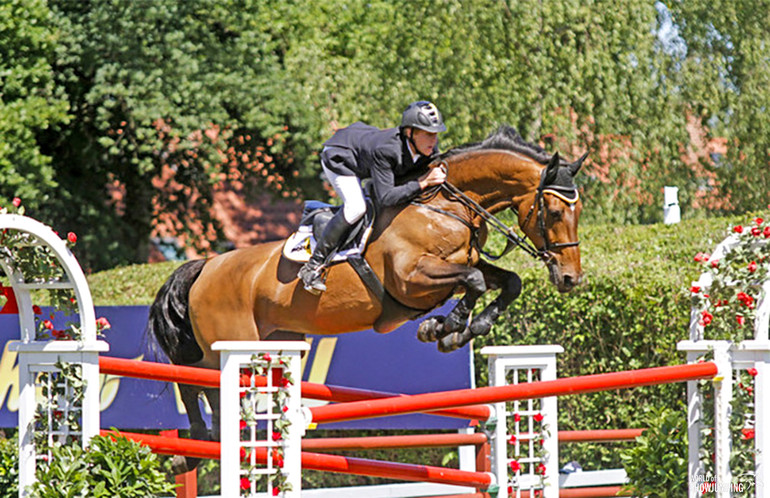 Noltes Küchengirl with Marcus Ehning in the saddle. Photo © Jenny Abrahamsson for World of Showjumping.
At the age of 26, Marcus Ehning's Noltes Küchengirl (Lord Z x Cambridge Cole) has passed away. The mare, who was retired from the sport in 2014, had a hugely successful career with Ehning in the saddle.
"With heavy hearts, we had to say goodbye to Noltes Küchengirl today," Ehning wrote on his official Instagram page on Sunday 5th November. "We and the Nolte-family look back at almost 20 very nice years with her. Because of her unique character she was always somethings special, in the sport and also later in breeding. She became 26 years old. We will miss you a lot Küche."
Under the name Lord's Classics, Noltes Küchengirl got her international breakthrough with Marcus' brother Johannes in the saddle – winning the Grand Prix of Hamburg in 2005, at only 8 years old. The following year Marcus had taken over the reins, and together the two won the Grand Prix of La Baule as well as the prestigious Grand Prix of Aachen. That same year the pair was also part of the German team that won the bronze medal at the World Equestrian Games in Aachen. Together they went on to take numerous other victories worldwide, and in 2010 Noltes Küchengirl helped Marcus Ehning win the title at the World Cup Final in Geneva alongside Plot Blue.
Noltes Küchengirl's legacy lives on through her offspring Comme Sa Mere (by Comme Il Faut), Plot's Princess (by Plot Blue) and For George (by For Pleasure) – all competing with Marcus Ehning at youngster level. She also has two more offspring by Sandro Boy, aged four and five.
At World of Showjumping, our thoughts go out to Marcus and all those close to Küche.