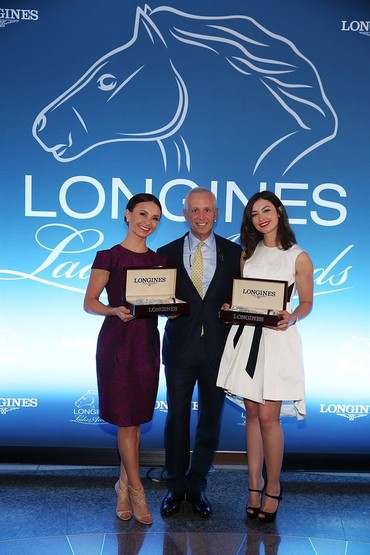 Georgina Bloomberg, Mr. Murray Kessler, USEF President, and Reed Kessler attend the Longines Ladies Awards ceremony hosted by Longines at the Ronald Reagan Building on May 19, 2017 in Washington D.C. Photo (c) Getty Images for Longines.
For their remarkable commitment and positive influence on the equestrian world, US showjumping athletes Georgina Bloomberg and Reed Kessler were honored with the Longines Ladies Awards during the gala dinner of the Pan American Conference presented by Longines on Friday evening in Washington, D.C. The Longines Ladies Award ceremony celebrated Bloomberg and Kessler, along with Michelle Payne and The Honorable Belinda Stronach, P.C. from the horseracing industry, for going above and beyond expectation to support horses, their sport, and others.
"Last night was a very proud moment for Georgina, Reed and equestrian sport. Both are magnificent woman who lead by example," said US Equestrian President Murray Kessler. "While we know them for their commitment and success on the field of play, it is what they do to give back to others and inspire the next generation that was recognized by Longines."
Bloomberg and Kessler have triumphed outside of the Grand Prix arena, championing influential causes for the betterment of the equine community. Kessler, who catapulted into the spotlight after becoming the youngest showjumper ever to compete in an Olympic Games, has used her status to give back to equestrian sport. For nearly 12 years she has been an ambassador for JustWorld International, which supports education and healthcare in developing countries. She also uses her experience and knowledge to give back to US Equestrian's Learning Center, which serves as an educational resource for riders of all ages and levels.
"My whole life I have been raised to believe I am capable of achieving anything I set my mind to, and I'm humbled to be recognized as a strong woman in the sport and a positive role model for young girls," said Kessler during her acceptance speech.
Bloomberg's tireless devotion off the horse also impressed the selection jury this year. In 2006, Bloomberg established her own charity, The Rider's Closet which makes riding clothes more accessible to those attending therapeutic riding schools. Bloomberg is a staunch advocate of the Humane Society and also serves as a board member of the Equestrian Aid Foundation, which provides support to riders, trainers, grooms, farriers, and other professionals needing help with medical expenses. She recently joined the board of Animal Aid USA and is an established author.
"Recognizing women in sport is very important for me and Reed because we both try to be top athletes and classy, elegant women who do things correctly in life. It's humbling to win an award, but to give back to causes that we really care about means even more," said Bloomberg.
International Federation of Horseracing Authorities Chairman Louis Romanet, former president of the International Federation of Gentlemen and Lady Riders Nathalie Belinguer, and Fédération Equestre Internationale President Ingmar De Vos selected the four recipients who received a Longines timepiece. In addition, Longines made a $10,000 donation to JustWorld International on behalf of Reed and a $10,000 donation to Kaeli Kramer Foundation in Georgina's name.
---
Source: Press release from USEF // Picture © Getty Images for Longines