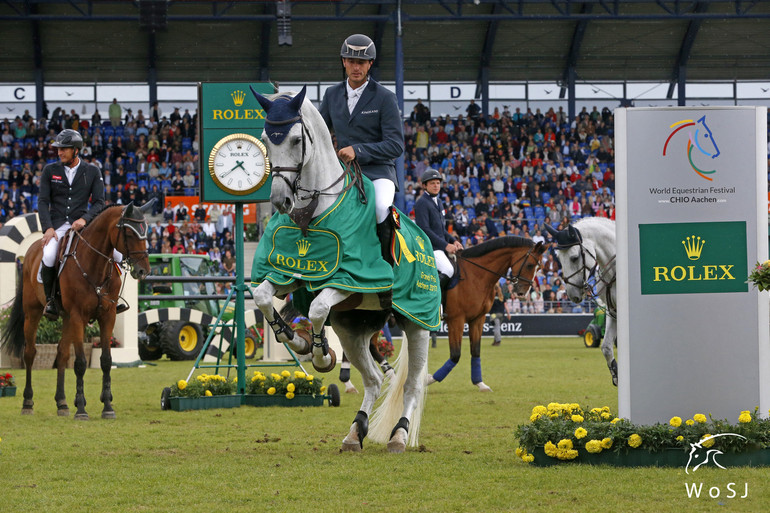 Gregory Wathelet and Coree, after winning the Rolex Grand Prix of Aachen back in 2017. Photo © Jenny Abrahamsson for World of Showjumping.
Text © World of Showjumping
---
This past weekend, Gregory Wathelet's Coree (Cornet Obolensky x Liberty Life) was retired from the sport during the Belgian rider's own show Jumping International de Courrière.
In 2017, Wathelet and Coree won the prestigious Rolex Grand Prix of Aachen, the Longines FEI Jumping World Cup in Leipzig and placed third in the Rolex Grand Prix of Geneva, while in 2018, the two topped the Longines Global Champions Tour Grand Prix of Shanghai.
"After Coree sustained an injury four years ago, we have tried to get her back," Wathelet told World of Showjumping about the timing of the retirement of the now 16-year-old mare. "Last year she came back, and the first show she did was in Knokke. She is all sound and good, but I never really got the same feeling of power that she used to have. We thought that with time it would come back, but in the end, the feeling just wasn't there – and the last thing I want is to push her to do anything more than she has already done for me."
"I love all my horses, but Coree is for sure very special in her attitude," Wathelet continues. "She is the kind of horse that you cannot force to do anything; you have to find a way of doing things as she wants to do them. And that applied to everything; taking care of her, flatting her, jumping her... Coree had so much quality, even if in the beginning some people had doubts about her scope. But in the end, when you win Aachen – that proves enough. However, Coree could win in a very small arena as well. I have had some very good horses in my life, but never another one like Coree, who could win a Global, a World Cup, or Aachen – I think that is something very special. She means a lot to me."
"She is going to keep doing what she has done until now; already for the last year, she has been ridden first thing in the morning, and then she goes in the paddock with a pony for the rest of the day," Wathelet tells. "Maybe now I won't ride her every day myself, but we still want to keep her fit and happy – she can even jump, if that makes her happy. I don't want to stop with her completely, I want to have her close to us and take care of her as we have done until now, even if she is retired from the sport."
"Aachen will always be the biggest win," Wathelet tells about his time with Coree. "Even if I would have the chance to perhaps one day win it again, when you win Aachen for the first time, it is something very special."