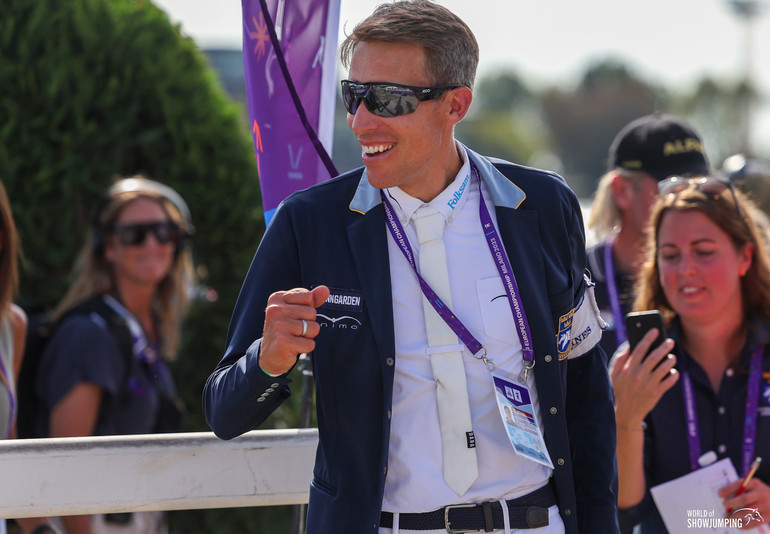 Henrik von Eckermann – who took team gold with the Swedes at last week's FEI Jumping European Championship 2023 in Milan, Italy – remains on top of the Longines Ranking for another month. Photo © Jenny Abrahamsson for World of Showjumping.
Sweden's Olympic team gold medallist, double world champion and European team champion Henrik von Eckermann tops the Longines Ranking for a 14th consecutive month – leading the way with 3410 points. The top two remain unchanged, with France's Julien Epaillard in second on 3183 points. Following his individual gold at the FEI Jumping European Championship 2023 in Milan, Italy, last week, Switzerland's Steve Guerdat makes a massive jump up – going from rank 12 to sit 3rd with his 2972 points. Great Britain's Ben Maher – who finished 4th individually in Milan – also advances, going from rank no. nine to now sit 4th with his 2961 points.
Martin Fuchs (SUI) drops down from rank four to five, followed by McLain Ward (USA) as rank six, Harrie Smolders (NED) as seven and Kent Farrington (USA) as no. eight. Simon Delestre (FRA) and Shane Sweetnam (IRL) complete the Top 10, sitting as rank nine and ten respectively.
This month's ranking includes validated results from 1 September 2022 to 31 August 2023.