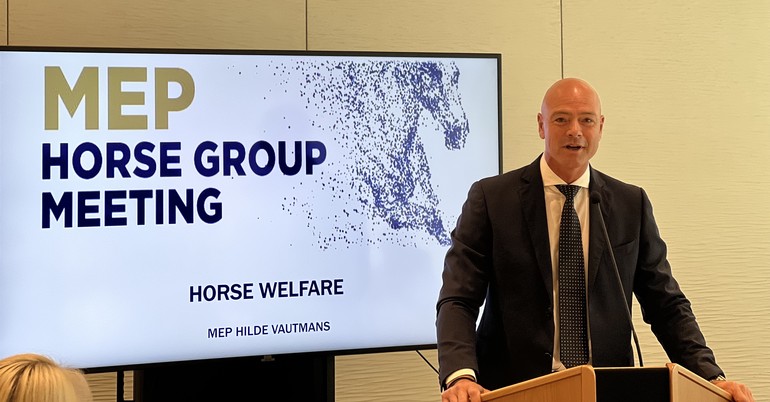 IJRC vice president François Mathy Jr. addressed the European Parliament's Horse Group on welfare standards. Photo © IJRC.
IJRC vice president François Mathy Jr. recently addressed the European Parliament's Horse Group, and took the opportunity to emphasise the importance of the bond between horses and riders that compete at the sport's elite level.
In the presence of Ursula von der Leyen – President of the European Commission – Mathy Jr. emphasised that the high welfare standards in the top sport were born out of the riders' passion for the animals, not simply as a matter of expediency.
"I was introduced to you as an athlete but in our sport, we are two athletes," Mathy Jr. told the MEPs. "We work daily together to improve in order to become better and achieve the best possible results. We must think as one, we must act as one, we must be able react together in fraction of seconds to be so precise that we can succeed through the technicalities of the 1.60m courses, and at the high speed of the jump-offs."
"We want to keep them happy not only because it's one of our main concerns, but also because it is a great factor of performance. If your horse loves you, if he understands what you expect from him, he will fight for you," Mathy Jr. said.
The European Parliament's Horse Group was founded in 2011 by British MEP Julie Girling, to unite MEPs with active equine and equestrian interests and thereby give the horse sector a greater voice. The current chairman of the group is the Belgian MEP Hilde Vautmans, who has guided it through many discussions – including Brexit, and the fast-growing influence of the social licence to operate.
Mathy Jr. detailed that he was impressed by the scope of the meeting, and by the parliamentarians' grasp of complex and diverse topics – the positive impact of horse grazing on biodiversity; growing problems caused by wolves in parts of Europe; and the need to differentiate horses from animals intended for human consumption in regulations over the use of antibiotics.
"It was a great opportunity for our sport to become closer to the knowledgeable people who are in these decision-making roles," Mathy Jr. added.
The full text of Mathy Jr.'s speech can be found here.