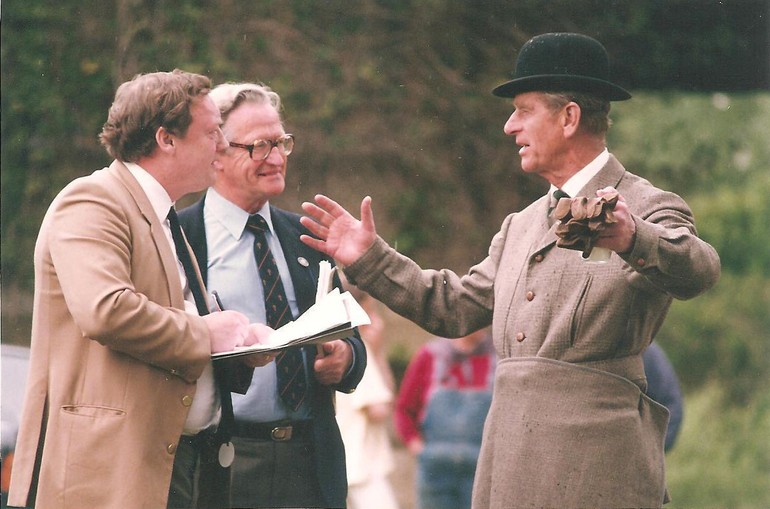 Pictured in 1992, left to right, Brian Giles of the Daily Mail, Alan Smith from the Daily Telegraph and HRH Prince Philip, Duke of Edinburgh. Photo © Peter Hogan.
Text from © FEI
---
Alan Smith (GBR), who was equestrian correspondent of the Daily Telegraph for 48 years, covering 10 summer Olympic Games and every major equestrian championship between 1960 and 2008, has died, aged 89. Remarkably, he was in charge of the newspaper's skiing coverage at eight winter Olympic Games having attended no less than 17 Olympic Games altogether.
Starting with the FEI Jumping European Championship for Juniors held in Hickstead (GBR) in 1961 through to the 2008 Olympic Games, after which he retired, he acquired a profound knowledge of equestrian sport and became a walking encyclopaedia of results and unforgettable stories. His dedication to the profession – he was dogged in the pursuit of a good story – and great kindness to young writers, helped him set the high standard of equestrian journalism, for which he is greatly admired to this day.
Before "falling into journalism", as he would say later himself, he turned down a place at Reading University because his father was ill and someone in the family had to make a living. He joined the Brenards Air News agency which was based at Heathrow, now one of the world's largest travel hubs, but only a "collection of huts" in those days.
After a spell working on pedigrees for the British Bloodstock Agency – his love of racing never left him and he continued to have shares in racehorses until his death – he was taken on by the Telegraph racing desk. One day the deputy sports editor asked him if he would like to cover "a bit of show jumping" and he never looked back.
In addition to his journalistic work, Alan Smith was on numerous committees including the FEI Jumping World Cup Committee, from the series creation in 1978 through to 1998. He developed a lasting friendship with Prince Philip, Duke of Edinburgh, who was the FEI President from 1964 to 1986. Having covered equestrian sport for nearly 50 years, he became the much admired and respected doyen of his profession.
"Alan Smith was one of the living legends of equestrian journalism and the sport as a whole," FEI Secretary General Sabrina Ibáñez said. "He has sadly passed away after covering some of Jumping and Eventing's greatest moments. On behalf of the FEI, I am honoured to pay tribute to such a remarkable newspaperman, who knew everything there was to know about the sport and more. He was admired for his infallible work ethic and was a true legend across press offices worldwide. My thoughts at this sad time are with Alan Smith's family and friends and the British equestrian community. He will be very much missed."
In 2020, fellow equestrian journalist Louise Parkes conducted a lovely interview with Alan Smith, which is available on the FEI website here. We invite you to read it and join us in remembering an exceptional professional and a wonderful man.