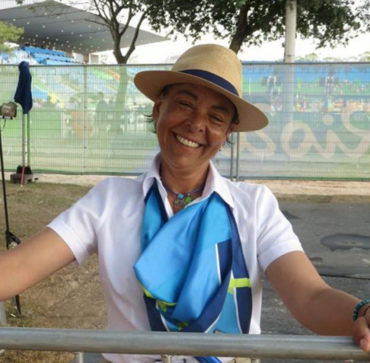 Neylan Etiman. Photo (c) FEI.
Neylan Etiman (TUR), who worked at three Olympic Games in her capacity as an FEI Jumping Official, has passed away due to complications following surgery. She was 53.
She was co-manager of the FEI Stewards' office at the Athens 2004 Olympic Games, was an FEI Steward at London 2012 and worked in the Mixed Zone in Rio last year, as well as running the Stewards' offices at the Alltech FEI World Equestrian Games™ in Kentucky 2010 and Normandy 2014.
She was a popular FEI Judge, Steward and Course Designer, and also an athlete, having competed in 10 Balkan Games and veteran events.
"Neylan's untimely passing comes as a tremendous shock and leaves a great void in all our lives", FEI Jumpng Director. "Her infectious smile, friendliness and positive approach to life, as well as her willingness to help was inspirational. Her presence at international events will be greatly missed."
The FEI extends its sincere condolences to the family and friends of Neylan Etiman, to the Turkish Equestrian Federation and the global equestrian community.
The International Jumping Officials Club has posted an obituary for Neylan Etiman here and there is also an in memoriam from the International Jumping Riders Club here.
---
Source: Press release from FEI