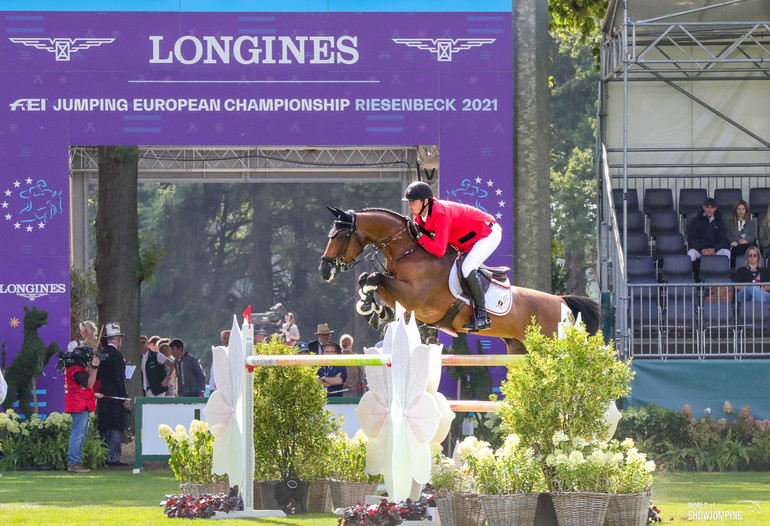 Jos Verlooy and Varoune at the Europeans in Riesenbeck 2021. Photo © Jenny Abrahamsson for World of Showjumping.
Jos Verlooy's 15-year-old Varoune (Verdi TN x Cordalme Z, bred by Erich Stevens and owned by Euro Horse BVBA) retires from the sport, the Belgian rider announced in social media on Monday.
"It is with mixed feelings that we announce that the incredible Varoune is retiring from the jumping world," read the post. "For years, Varoune amazed us with his exceptional talent and unwavering spirit. Together with the talented rider Jos Verlooy, he achieved remarkable milestones. Together they have created memories that will forever be engraved in the history of equestrian sports. Varoune's dominance in the sport became evident when he captured the title of Belgian Champion in Lanaken for three consecutive years. A true testament to his ability and consistency. Thank you, Varoune, for the breathtaking moments you have shared with us all."
In addition to being crowned Belgian champions three times in a row, Verlooy and Varoune were hugely successful on five-star level and were part of the Belgian team that took bronze at the 2021 European Championships in Riesenbeck, Germany.
At World of Showjumping, we wish Varoune a very happy retirement!