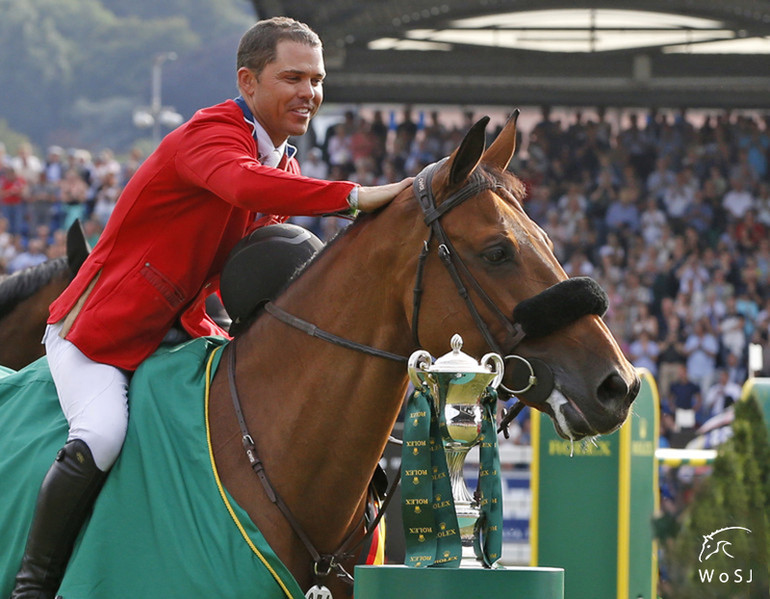 Kent Farrington's Aachen Grand Prix winner Gazelle has been retired from the sport. Photo © Jenny Abrahamsson for World of Showjumping.
At the age of 17, Kent Farrington's Aachen Grand Prix winner Gazelle (Kashmir van Shuttershof x Indoctro – breeder Werner Hyeninkx-Van Hoornick) will be retired from the sport. The mare will be thanked off this Saturday, February 11, with a retirement ceremony at Wellington International.
With Farrington in the saddle, Gazelle had a long and successful career. The two won the Rolex Grand Prix of Aachen in 2019, the Rolex Grand Prix of Geneva in 2017, as well as the Queen Elizabeth II Cup at Spruce Meadows both in 2017 and 2016 – just to mention a few of their most notable victories.
On her Instagram account, Gazelle's owner Robin Parsky announced:
"It is with sincere respect and admiration that Robin Parsky and Kent Farrington announce the retirement of their wonderful mare GAZELLE. Truly one of the most outstanding show jumping horses of this century, GAZELLE (Kashmir van Shuttershof X Indoctro) has just turned 17 years old. She won the last competition she was in at Spruce Meadows in September 2022.
"After 10 years of extraordinary accomplishments at the most prestigious show jumping events in the world, it was a difficult decision for Kent and me to have GAZELLE leave her sporting career, but I am delighted to report that she is in terrific condition and she will be heading for a well-deserved life of green pastures and sunshine", Robin said.
A ceremony in honor of GAZELLE will be held this Saturday, February 11, at the CSI 5* Grand Prix at Wellington International, the Fidelity Investments GP, which she won previously in 2017. It is a fitting time and location to welcome GAZELLE'S many fans for a farewell to this special mare.
GAZELLE grossed over $4million in prize money and WON almost all of the top 5* Grand Prix in the world including Rolex CSIO Aachen, Rolex CSI Geneva, GCT Madrid, Queen Elizabeth II Cup Spruce Meadows(twice), American Gold Cup (twice), Fidelity Investments CSI Wellington, Rolex CSI Tryon, Jumping International Valence (twice), Hubside St Tropez, Kentucky National WC and many other jumping events. Kent rode GAZELLE on Team USA at the Tokyo 2020 Olympic Games and on Team USA at the Toronto 2015 Pan American Games. GAZELLE received International Horse of the Year honors from the USEF in 2020.
A big THANK YOU to GAZELLE for sharing her talent, her intelligence and her enormous heart with Kent and Robin and all at Team KPF. No matter how small or how large the arena or the size of the attendance at the horse show, GAZELLE was always "Game On"!
Enjoy the rest of your life beautiful girl with the big ears!"
At World of Showjumping, we wish Gazelle a happy retirement!