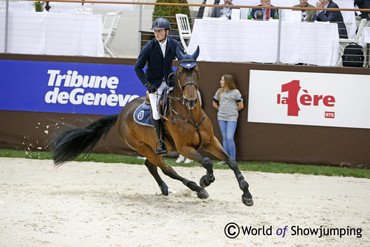 Lorenzo de Luca. Photo (c) Jenny Abrahamsson.
It's exciting times for Italy's Lorenzo de Luca, who has a new job as a rider at Stephex Stables. De Luca has been working for Neil Jones for the past three years, and the two has created a lot of success during this period – with De Luca picking up major wins all over Europe and competing at the World Equestrian Games in Normandy this September.
"I start up at Stephex in the beginning of January," Lorenzo says to World of Showjumping adding that he will still keep on collaborating with Jones. "For me it is a super opportunity to work with a top rider such as Daniel, and the entire team at Stephex is great so I am very happy to be going there. Stephan is really motivated to put together a good group of horses for me, with the main goal for next year being the Europeans in Aachen as well as the Nations Cups where Italy will be competing in the Europe Division One."
"I had a wonderful time in Neil's stable," De Luca says. "There were many special moments with very good horses. We worked very well together and we had a great team behind us! So, I am happy to keep the collaboration with Neil."