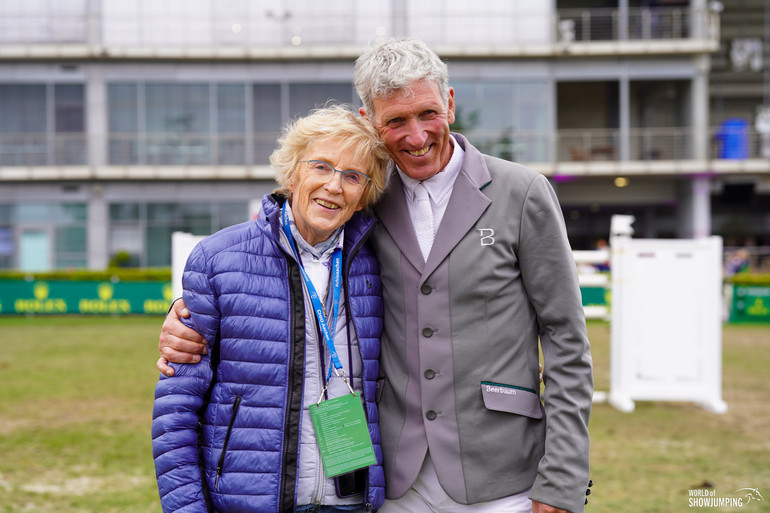 Ludger Beerbaum with his long-time supporter Madeleine Winter-Schulze – who has paid a tremendously important part in his long and illustrious career – at CHIO Aachen today after the German legend surprisingly announced his retirement. Photo © Nanna Nieminen for World of Showjumping.
Text © World of Showjumping
---
After four gold medals and one bronze medal from the Olympic Games, two gold, one silver and one bronze from the World Championships, as well as six gold, three silver and two bronze from the European Championships, German legend Ludger Beerbaum made a surprise announcement of his retirement at CHIO Aachen on Sunday – spontaneously taking center stage after the Rolex Grand Prix.
"Over the last few years, I have been thinking about when it is going to be the right moment for me to retire," Beerbaum, who in August 2016 initially stepped down from the German championship squad, told World of Showjumping after his surprise announcement. "I always said that I want to be retired once I am sixty, and now this year, at end of August, I will turn sixty... It is always the question of when the right moment is, and I guess there is never an ideal moment. However, after not even thinking that I would have had the opportunity to ride here in Aachen one more time – with my injury in Doha and the surgery – this felt like a good time."
However, today's decision did not come easily to the German legend. "It is hard," Beerbaum continued. "Mila is in good shape and she is only eleven, so there was a part of me saying that I should continue a little bit longer," he said of his top horse that on Sunday jumped great in the Rolex Grand Prix of Aachen, only picking up four faults on the open water in the first round.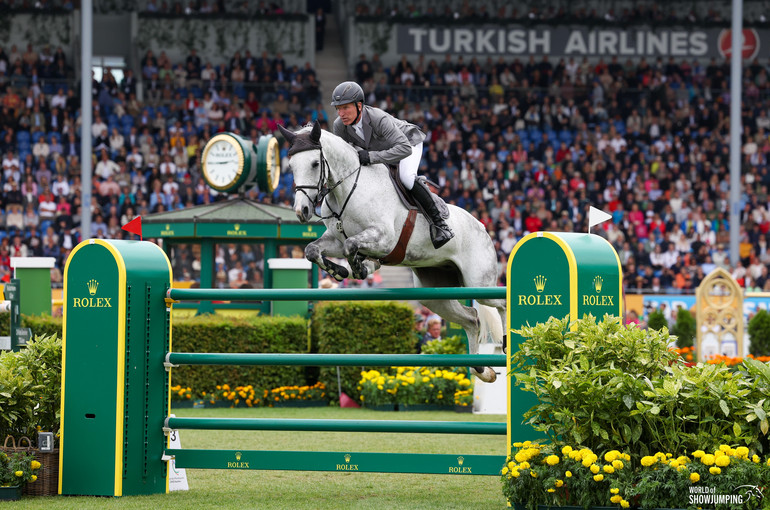 Ludger Beerbaum making his very last international appearance, with Mila, in the Rolex Grand Prix at the 2023-edition of CHIO Aachen. Photo © Jenny Abrahamsson for World of Showjumping.
Last year, Beerbaum and Mila won two LGCT Grand Prix classes, taking the top honours in Doha and Mexico City. "However, I think the biological clock is ticking and it is also very nice for me to hand over the horse to one of my colleagues; Eoin will be riding her. It will be nice to follow them. Maybe he can make the team for Paris next year; that would be great and I would feel really good about that."
Stepping away from the top sport, Beerbaum is not hanging away his riding boots for good though. "I will keep riding at home and maybe I will compete in a youngster tour somewhere, just not in the big sport," he smiled. "I will try to continue being productive behind the scenes, bringing the horses along and hopefully picking a few right horses for the right riders – something that I have done my entire life."
2.7.2023 No reproduction of any of the content in this article will be accepted without a written permission, all rights reserved © World of Showjumping.com. If copyright violations occur, a penalty fee will apply.