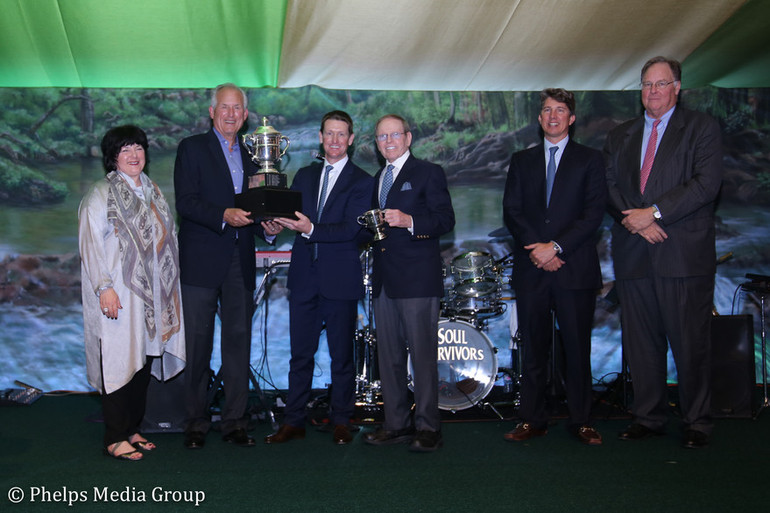 Left to right: Betsy Juliano, Jim McNerney, McLain Ward, Brownlee O. Currey, Jr., Philip Richter and William Weeks. Ward was presented with the 2018 Whitney Stone Cup at the "Triumph in Tryon" Gala on Jan. 19. Photo (c) Phelps Media Group.
McLain Ward, Jennifer Gates and Jane Forbes Clark were all honoured at the United States Equestrian Team Foundation's "Triumph in Tryon" Gala on Jan. 19 in Wellington, Florida.
McLain Ward was the recipient of the 2018 Whitney Stone Cup, an award presented annually to an active competitor who displays consistent excellence in international competition and high standards of sportsmanlike conduct, while serving as an ambassador for the United States and equestrian sport and exemplifying the team's highest ideals and traditions. The Whitney Stone Cup is awarded in honor of the late Whitney Stone, who served as president and chairman of the board of the USET from 1953 to 1973. Mr. Stone was instrumental in the creation of a civilian equestrian team when the Army retired from competitive horse sports after 1948. Previous Whitney Stone Cup winners include Conrad Homfeld, Katie Monahan Prudent, Peter Wylde, Beezie Madden, Rich Fellers and many other big names.
"It's a great honor," said Ward on receiving the 2018 Whitney Stone Cup. "For us in particular, we had a difficult end to the season with losing Mr. Harrison. He was a great supporter of myself and my team. To be able to win an award such as this that recognizes our performance with his horses and others over the past season, including HH Azur winning the World Cup Final, makes it a little extra special. Also for myself personally — we lost Bill Steinkraus this year, who for me growing up was a great mentor particularly in regards to representing the team, so it's a special year to be able to win this award not only for my team but in honor of those men."
Jennifer Gates received the 2018 Lionel Guerrand-Hermès Trophy, a prestigious award that is presented annually to a young competitor in one of the Olympic disciplines who demonstrates the utmost in sportsmanship and horsemanship.
"It is a huge honor to join the many incredibly talented riders who have received this award before me," said Gates. "It's humbling to have the opportunity to represent the United States in this sport. The Lionel Guerrand-Hermès Trophy's values of sportsmanship and horsemanship are ones that I try to embody every day with my riding."
The R. Bruce Duchossois Distinguished Trustee Award went to Jane Forbes Clark. This award honors and recognizes a trustee on the USET Foundation board whose character, philanthropy and leadership is exemplary and has contributed to the organization's mission of supporting athletes, promoting international excellence and building for the future.
"Jane has exemplified leadership, philanthropy and generosity to this country's high performance programs and United States equestrian teams for almost four decades," remarked USET Foundation President and CEO Jim McNerney. "She has served as president of this country's federation and as president of the USET Foundation. There is perhaps no one who understands the sport and has supported our athletes more than Jane. I have tremendous respect for her and can't think of a more deserving recipient of this prestigious award."
---
Source: Press release from USET Foundation // Picture © Phelps Media Group